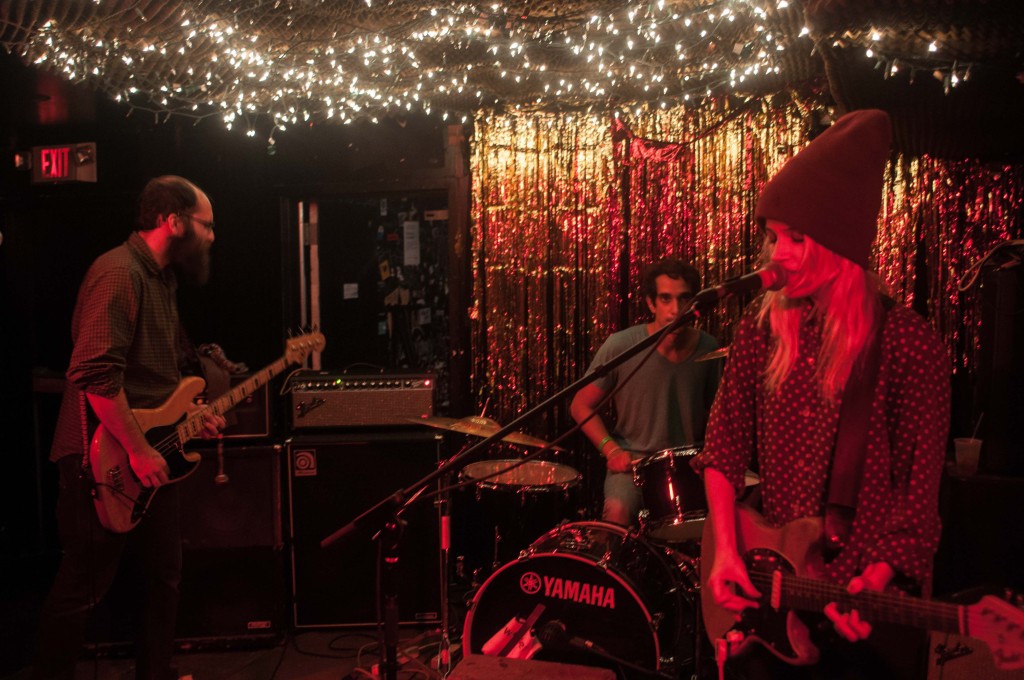 [photo courtesy of Cereal + Sounds]
The story of how the band Dirty Dishes came into being reads like something out of a Judd Apatow movie. The guy who vomits on the girl's shoes at a party later calls to apologize and buy her new shoes, and eventually the two decide to start a band. The nagging question is why anyone would want to start a band with a shoe-puker — but after about thirty seconds of seeing Alex Molini play bass guitar the answer is obvious. The dude can flat out play. While Jenny Tuite's lead vocals and melodic guitar lines are the centerpiece of the band, its the Molini bass presence that sets Dirty Dishes apart and are a large part of the reason why we invited them to our play our CMJ Day Party this year. The band had other gigs later in the evening so they needed to start early, which gave us the opportunity to see the band up close unfettered by the massive crowds that filled the Cake Shop basement later in the day. The Dirty Dishes set drew primarily from their 2015 release Guilty (Exploding in Sound Records) with two apparently new songs. It was the interplay between the band's guitarists that impressed throughout and proves that no matter how you meet, its always a good thing to find your musical mate.
Dirty Dishes' Fall Tour continues throughout November as the band travels through the East coast, Canada and the Midwest — all dates here. This tour includes a return to NYC for a show at Silent Barn on November 22.
Acidjack recorded this set in the same manner as the WOMPS set posted last week — Schoeps mounted on stage and mixed with a board feed. The sound quality is superb. Enjoy!
Download the Complete Show [MP3] / [FLAC]
Stream the Complete Show:

Note: All of the material on this site is offered with artist permission, free to fans, at our expense. The only thing we ask is that you download the material directly from this site, rather than re-posting the direct links or the files on other sites without our permission. Please respect our request, and feel free to repost the Soundcloud links.
Dirty Dishes
2015-10-15
NYCTaper CMJ Day Party
Cake Shop
New York, NY
Digital Master Recording
Soundboard + On Stage Audience Matrix
Schoeps MK4V (onstage) > KC5 > CMC6 + Soundboard (engineer: Jeff) > Edirol R-44 [OCM] > 2x24bit/48kHz WAV > Adobe Audition (mix) > Soundforge (post production) > CDWave 1.95 (tracking) > TLH > flac (320 MP3 and tagging via Foobar)
Please support this excellent band:
http://dirtydishes.bandcamp.com/
Recorded by acidjack
Produced by nyctaper
Setlist:
[Total Time 23:28]
01 Red Roulette
02 Guilty
03 All Of Me
04 Sick Sentiment
05 Thank You Come Again
06 Dan Cortez
If you Download this recording from nyctaper, we expect that you will PLEASE SUPPORT Dirty Dishes, visit their Bandcamp, and purchase their new album Guilty from Exploding In Sound Records [HERE].