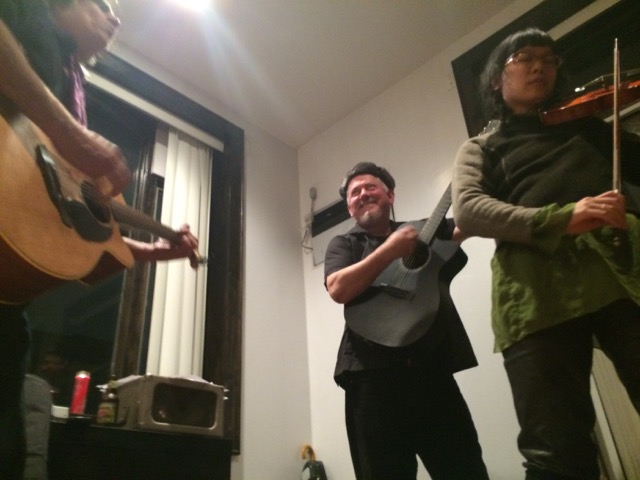 neild reports:
In a bookend to his February 2016 acoustic gig/art show at a private apartment in Brooklyn, Jon Langford closed out the year with another performance at the same venue. This time he brought along not just his guitar and violnist/vocalist extraordinaire Jean Cook (plus lots of his inimitable paintings and prints, which did a brisk business), but also Silos cofounder Walter Salas-Humara. The pair of country-punk pioneers swapped songs while adding guitar and improvised percussion to each other's songs — on one track Langford started out drumming with brushes on his guitar back, before breaking for a drum solo played on his own butt — perfectly melding Langford's sardonic tales of blasé drone operators and Irish fishing villages still reliving the decades-only filming of Moby Dick with Salas-Humara's ballads of pot smuggling and doomed romance. It was as stripped down as punk rock, or music in general, can be, and further cemented Langford's role as one of the world's most seriously funny, and comically serious, artists, while providing a welcome reminder that really all that's needed for great music are a couple of instruments and an appreciative crowd willing to join in on the choruses.
As with the February show, there was no amplification, so this was recorded with the same CA-14 cardioid mics (mounted on a stand this time instead of sitting on the floor, as the space was slightly less cheek to jowl); when it sounds like the performers have wandered off into another part of the room at one point, that's exactly what's happened. Thanks to Jon and Walter and Jean, and to Jon Raaen for hosting us all again at his apartment. Next time, with less snow on the ground for once!
Download the Complete Show in MP3 or FLAC format at Archive.org [HERE]
Stream the Complete Show (via Archive.org):

Jon Langford and Jean Cook
2016-12-17
Private Residence
Brooklyn, NY
CA-14 cardioid mics > Church Audio ugly battery box > Sony PCM-M10 > WAV (24/48) > Sound Studio (light dynamic compression to reduce loud claps and percussion) > FLAC (16/44.1) > Tag > FLAC
Recorded and mastered by neil d
Early Set:
01 Over the Cliff
02 Millionaire
03 The Country Is Young
04 Tubby Brothers
05 Counting on You
06 The Sunshine and the Moon
07 Shitload of Cash
08 The Sounds Next Door
09 Sentimental Marching Song
10 Hank Williams Must Die
11 Youghal
12 Streets of Your Town (Go-Betweens cover)
Late Set:
13 second set
14 Summer Stars
15 Drone Operator
16 Walking on Hell's Roof
17 Satellite
18 Diner by the Train
19 Nashville Radio
20 Homburg
21 Commodore Peter
Check out more on Langford's many forms of art at the terrific site maintained by Nobby Knape, or just wait around long enough, and he'll probably show up in some guise or another.