Follow @acidjacknyc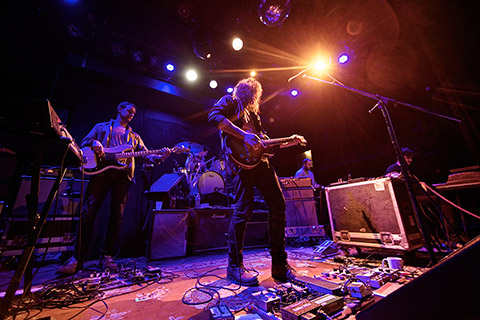 [Photos from the 3/19 show courtesy of P Squared Photography]
My thoughts on The War on Drugs don't differ much from those expressed in nyctaper's review of the previous night, but I do think some things bear repeating. Nine times out of ten — more like 95 times out of 100 — worthy bands who toil in the trenches don't make it. One thing doesn't go right or another. Maybe there's a lack of commitment on someone's part. Or a lack of confidence. Or, in most cases, a lack of pure dumb luck.
We've posted a lot of recordings of this band over the past few years not because we thought one day they'd be able to way-sell-out three nights in a row here in New York, which they just did, but because we believed they were worthy. As a fan, your biggest hope always ought to be that the band you're rooting for makes it. For Adam Granduciel, who toiled for over a year creating his magnum opus Lost In the Dream, it didn't yet seem to have sunk in that his band had. He showed a bit of nervousness before kicking off the opening number, "In Reverse", but after that, this show unfolded like the victory party it was meant to be. Compared to night one at the Bowery Ballroom, the band was looser and more poised, playing one song after another as easily as "Suffering" transitioned straight into "An Ocean In Between the Waves". Just as heavily-produced album tracks like "Under the Pressure" shone as rendered live, so too did re-arranged versions of the band's classics like a slowed-down "Brothers". With the bevy of personnel at his command, including a saxophonist, the band's more complex numbers took on a Destroyer-like caste at times (we've recorded WoD opening for them). Granduciel makes that work, too, being the kind of musician who can add complexity without letting it turn to overindulgence.
Normally when you can hear a crowd screaming at the stage between songs it's mindless heckling; if you listen closely to this recording, what's being hurled at Granduciel are compliments on the album. This was that kind of show, right through Granduciel acknowledging the fakeness of encores, asking for the lights to go up some so he could read the lyrics to John Lennon's "Mind Games" (streaming below) a bit more clearly. The War on Drugs may be critical darlings now, but this is isn't overnight success. This is it being done the old fashioned way. The kind that lasts.
I recorded this set from my usual spot in the venue with Schoeps MK5 cardiod microphones and a stereo soundboard feed provided by house engineer Kenny. The sound quality is outstanding, marred only slightly by light static during two songs. Enjoy!
Stream "Mind Games" [John Lennon]

Stream "Under the Pressure"

This recording is now hosted on the Live Music Archive.  Download the complete show via these links: [MP3] | [FLAC]
Stream the complete show:

Note: All of the material on this site is offered with artist permission, free to fans, at our expense. The only thing we ask is that you download the material directly from this site, rather than re-posting the direct links or the files on other sites without our permission. Please respect our request.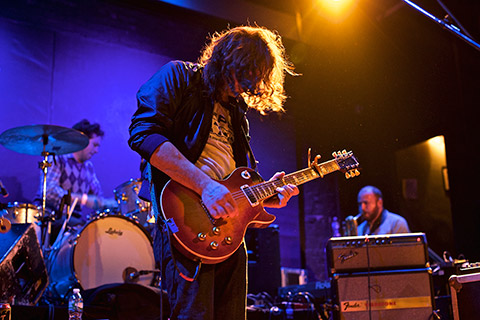 The War On Drugs
2014-03-20
Bowery Ballroom
New York, NY USA
Exclusive download hosted at nyctaper.com
Recorded and produced by acidjack
Schoeps MK5 (DINa, balcony, LOC)>KC5>CMC6>Sound Devices USBPre2 + Soundboard (engineer: Kenny)>>Edirol R-44 [OCM]>2x24bit/48kHz WAV>Adobe Audition CS 5.5 (align, adjust levels, mix down, compression, fades)>Izotope Ozone 5 (EQ, effects)>Audacity 2.0.3 (track, amplify, balance, downsample, dither)>FLAC ( level 8 )
Tracks [Total Time: 1:39:24]
01 In Reverse
02 Baby Missiles
03 [banter]
04 Under the Pressure
05 Suffering>
06 An Ocean In Between the Waves
07 Eyes to the Wind
08 Red Eyes
09 Come To the City
10 Brothers [Slow Version]
11 Burning
12 [banter2]
13 Lost In the Dream
14 [banter3]
15 Mind Games [John Lennon]
16 Coming Through
17 [banter4]
18 Arms Like Boulders
If you enjoyed this recording, PLEASE SUPPORT The War on Drugs, visit their website, and buy Lost In the Dream from Secretly Canadian.