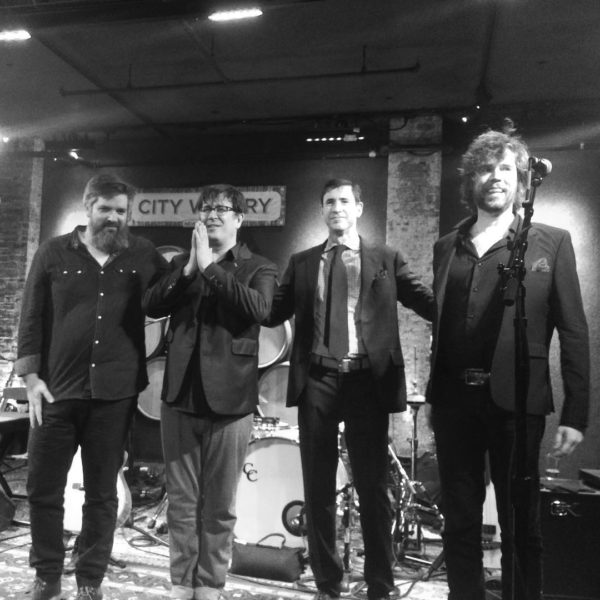 [photos by Andrew Lowden]
Over the course of three shows at City Winery, John Darnielle gave his Mountain Goats bandmates a subtle but meaningful tribute that you would have missed if you were not paying close attention. For the first song of each of the three John "solo" segments in each show, a different band member was featured in a duo with the band's protagonist. On Sunday, Matt Douglas played sax on "Foreign Object", on Monday Peter Hughes played bass on "Jenny", and for this Tuesday night finale of the residency, Jon Wurster joined John for a cover of Dio's "Rainbow in the Dark" — a song Darnielle revealed that Wurster had never played before this performance.
These are some of the little things that bring the fans back to see the Mountain Goats time and again. There were many fans who attended each of the three nights at City Winery and perhaps other East coast shows. What brings them back night after night isn't just the promise of different and sometimes rare songs at any given show, or the often hilarious banter, or the chance to hear their favorite songs — the most compelling aspect of the Mountain Goats experience is the feeling of belonging. There is a strong sense of unity within the band, between the fans, and between the fans and band. The music offers a sense that no matter how difficult things are for you, there are people out there who know what you've endured and can tell you from experience that you're going to be alright.
The final night of this special set of shows became the "celebratory" performance in large part because this particular crowd was quite rambunctious. And John rewarded the energy with a couple of first-time covers and a few songs that had yet to appear on this tour. In particular "Cobscook Bay" and "Nine Black Poppies" were familiar but welcome additions to the tour itinerary, both not having appeared on a setlist since last year. For a final night of the tour and likely the last NYC Mountain Goats show until 2017, this show was exactly what we'd hoped to experience.
I recorded this set in the same manner as the previous night and the sound quality is equally superb. Enjoy!
Download the Complete Show in FLAC and MP3 from Archive.org [HERE]
Stream the Complete Show (minus banter tracks):

Mountain Goats
2016-04-19
City Winery
New York NY
Digital Master Recording
Soundboard + Audience Matrix
Soundboard [Engineer: Brandon Eggleston] + Schoeps CCM4u Cardioids > Sound Devices 744t > 2 x 24bit 48kHz wav files > Soundforge (post-production) > CDWave 1.95 (tracking) > TLH > flac (320 MP3 and tagging via Foobar)
Recorded and Produced by nyctaper
Setlist:
[Total Time 1:42:44]
01 Get Lonely
02 Foreign Object
03 Woke Up New
04 Until I Am Whole
05 Cry for Judas
06 [banter – gimmick intro]
07 Werewolf Gimmick
08 Rainbow in the Dark [Dio]
09 [banter – thanks]
10 Superman [Goldfinger]
11 Nine Black Poppies
12 Cobscook Bay
13 Lakeside View Apartments Suite
14 Southwestern Territory
15 Love Love Love
16 Stabbed to Death Outside San Juan
17 Damn These Vampires
18 [banter – game show intro]
19 Game Shows Touch Our Lives
20 The Young Thousands
21 Liza Forever Minnelli
22 [encore break]
23 See America Right
24 Up the Wolves
25 Home on the Range
26 No Children
27 Spent Gladiator 2
28 [second encore break]
29 This Year
SUPPORT the Mountain Goats: Website | Twitter | Buy Official Releases | Tour Dates