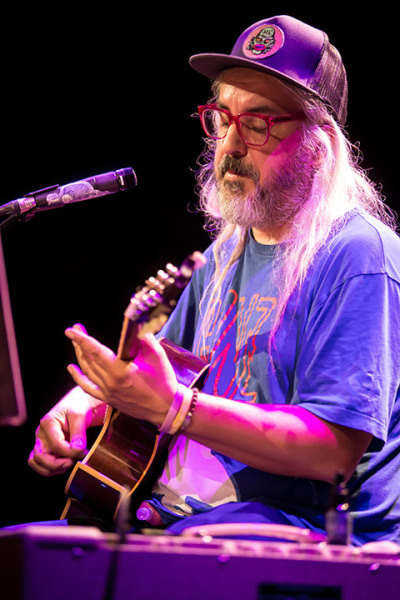 [photos by PSquared Photography]
As we've noted before, Dinosaur Jr holds a special place in the history of NYCTaper. One of my first recordings for the site and the one that seemed to put us on the blog map was a Dinosaur Jr. show at Irving Plaza in 2007. Over the years, we've recorded the band many times, and most recently acidjack and JFCB's captures of the mega-Dino Jr show at Terminal 5 with a plethora of special guests has been one of the most popular recent offering at the site. So it was only natural that a solo J Mascis show at our favorite venue would be the natural evolution of our relationship with this artist. J recently released what is essentially his second proper solo album Tied To A Star (Sub Pop), and he's currently on tour to support the record. At Bowery Ballroom, it was just J and several acoustic guitars with a ton of pedals. For the most part, he played it pretty straightforward, while occasionally taking advantage of the looping and sampling capability to jam with himself. The setlist included half of the new album and healthy dose of Dinosaur Jr tracks. We are streaming below our two favorite parts of the show, including a blistering guitar solo that extended the new song "Heal The Star" to beyond six minutes and the very J-like cover of the Mazzy Star classic hit "Fade Into You". J's tour picks up again in mid-November when he goes West before touring Europe in December.
hi and lo and I recorded this set in our usual location at Bowery, front of the balcony next to the soundboard. hi and lo employed the MBHO cards on a clamp pointed out in front of the board area while I mounted the Schoeps cards on a stand. I blended the sources fairly evenly, each offering a slightly different locale and microphone style so that the result is a pretty excellent full-bodied capture of this solo acoustic show. Enjoy!
Stream "Heal The Star":

Stream "Fade Into You" (Mazzy Star cover):

Download the Complete Show [MP3] / [FLAC]
Note: All of the material on this site is offered with artist permission, free to fans, at our expense. The only thing we ask is that you download the material directly from this site, rather than re-posting the direct links or the files on other sites without our permission. Please respect our request.
J Mascis
2014-10-17
Bowery Ballroom
New York NY
Digital Master Recording
Audience Four-Mic Matrix
Schoeps CCM4u Cardioids + MBHO KA-200n > Naiant PFA > Sonosax SX-M2 > Sound Devices 744t > 2 x 24bit 48kHz wav files > Soundforge (level adjustments, mixdown, EQ, set fades) > CDWave 1.95 (tracking) > TLH > flac (320 MP3 and tagging via Foobar)
Recorded by nyctaper and hi and lo
Produced by nyctaper
Setlist:
[Total Time 1:08:57]
01 Listen to Me
02 Me Again
03 Little Fury Things
04 Ammaring
05 Every Morning
06 Stumble
07 Get Me
08 [tuning and crowd]
09 Drifter
10 Heal the Star
11 [banter – tuning]
12 Not the Same
13 Out There
14 Pond Song
15 Fade Into You [Mazzy Star]
16 Not You Again
17 Alone
18 [encore break]
19 Just Like Heaven [Cure]
If you download this recording, we expect that you will PLEASE SUPPORT J Mascis, visit his website, and purchase Tied To A Star from the Sub Pop Records website [HERE].