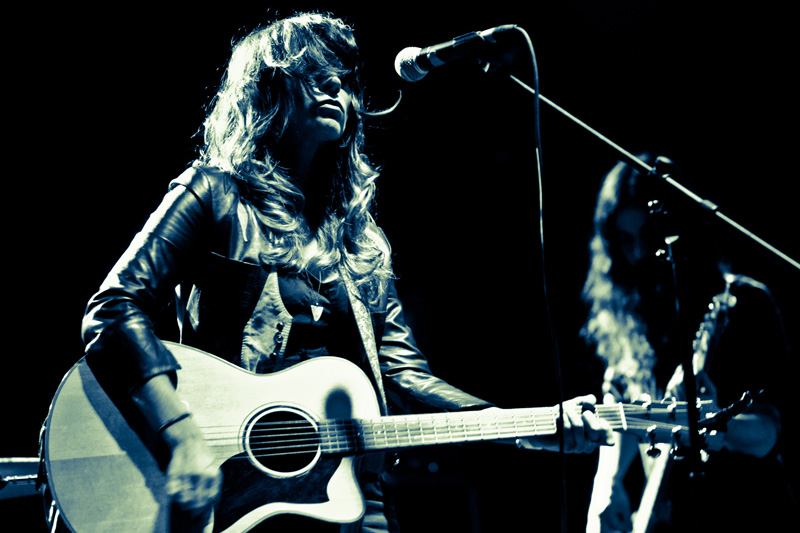 [photo courtesy of JC McIlwaine and Bowery Houselist]
After several near misses, we were fortunate to finally catch Nicole Atkins live for the first time since March at Maxwell's. As she is currently on tour in support of The Felice Brothers (recording coming soon), Nicole's set was an abbreviated version of her recent performances. While we pined for her mid-set solo segment, her Webster Hall show on Friday was full of peak moments — her band The Black Sea continues to impress, particularly guitarist Irina Yalkowsky whose aggressive slide guitar work shined in several numbers. As Nicole continues to tour behind Mondo Amore, that album's songs predominated the setlist. The Leadbelly cover "In The Pines" was dedicated to Kurt Cobain (Nirvana also covered the song), and it was perhaps the most powerful song of the set. We are streaming it below. Nicole Atkins has several more local dates coming up this month, including the Petty Fest, a City Winery show, and the O Positive Festival in Kingston NY.
I recorded this set with the Neumann microphones mounted in the soundboard booth at the front and center of the balcony and mixed with a soundboard feed. There is some interference from a digital interface on stage that is noticeable at quieter moments of the show, but overall the sound is excellent. Enjoy!
Stream "In The Pines":
Audio clip: Adobe Flash Player (version 9 or above) is required to play this audio clip. Download the latest version here. You also need to have JavaScript enabled in your browser.
This Recording is now available to Download in FLAC and MP3 at Archive.org [HERE].
Nicole Atkins
2011-09-29
Webster Hall
New York, NY USA
Digital Master Recording
Soundboard + Audience Matrix
Soundboard + Neumann KM-150s > Edirol R-44 (Oade Concert Mod) > 2x 24bit 48kHz wav files > Soundforge (level adjustments, mixdown, downsample set fades) > CDWave 1.95 (tracking) > Flac Frontend (level 7, align sector boundaries) > flac
Recorded and Produced by nyctaper and acidjack
2011-10-01
Setlist:
[Total Time 47:46]
01 Heavy Boots
02 Party's Over
03 This Is For Love
04 [banter]
05 The Way It Is
06 Cry Cry Cry
07 You Come To Me
08 Brooklyn's On Fire
09 My Baby Don't Lie
10 Vultures
11 In The Pines
12 The Tower
If you email nyctaper for access to this recording, we expect that you will PLEASE SUPPORT Nicole Atkins, visit her website, and purchase her new album Mondo Amore from her website [HERE].