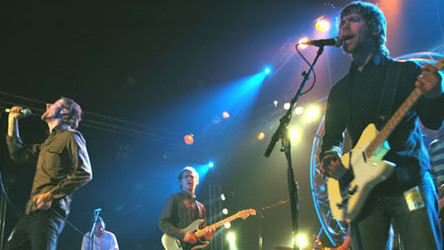 The National deserved better. The afternoon saw persistent rain that fortunately let up near the end of the opening set, and stayed clear throughout the entire National set. Unfortunately, there was some problem with the sound system, and in particular Matt Berninger's lead vocal microphone that caused crackling every time he tried to raise the volume of his voice to match the level of the music.
All that aside, the performance was energetic and tight. I've never seen The National live before, but based upon the new album Boxer, which sounds very much like Tindersticks to me, I expected a more dirge-like performance. Instead, the band rocked and Matt wailed. The live National reminds very much of early Echo & the Bunnymen or PC&L-era New Order.
I recorded from an excellent position, about 30 feet in front of the stacks using the DPA uni-directional microphones. This position gave me a direct line to the sound, and avoided the pratfalls of an outdoor show, particularly one in rainy conditions and on the river. There is absolutely no wind noise on this recording. Again, the sound system let us down. At louder moments during vocals, the crackling is quite evident. During the completely instrumental moments, and quite parts of the show, the recording is outstanding.
This recording is now available to download in FLAC and MP3 at Archive.org [HERE].
The National
2007-08-17
Seaport Music Festival
Pier 17
New York, NY USA
Digital Master Recording
Recorded from 30 Feet
in Front of Right PA Stacks
DPA 4021's > Marantz PMD-660 (Oade BCM) > flac
Premiere Download offered at
http://www.nyctaper.com
nyctaper@nyctaper.com
Recorded and Produced by
nyctaper 2007-08-18
Setlist:
01 Start a War
02 Mistaken for Strangers
03 Secret Meeting
04 Brainy
05 Baby, We'll Be Fine
06 Slow Show
07 Abel
08 Squalor Victoria
09 Racing Like A Pro
10 Apartment Story
11 Daughters Of The Soho Riots
12 Fake Empire
13 Mr. November
Encores:
14 Murder Me Rachael
15 About Today
16 Bonus Track (final song from The Forms set)
As with all artists featured on this site, if you download this recording please purchase The National's new album Boxer: