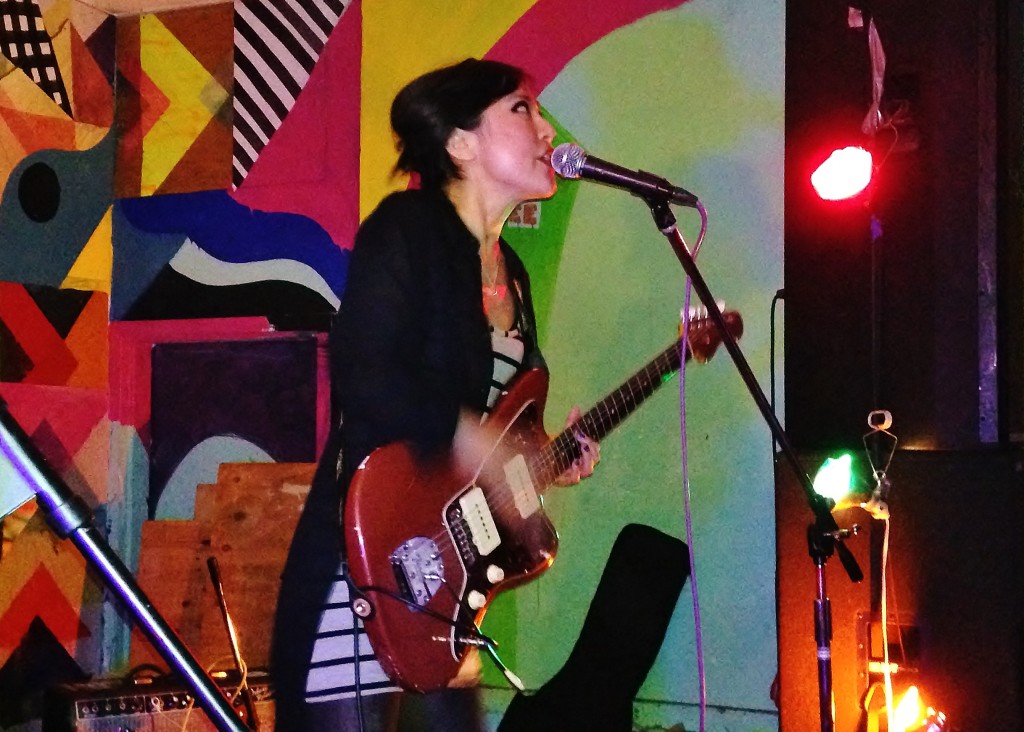 [iphone photo by nyctaper]
When we put together a showcase for Death By Audio for last Tuesday, I was pretty excited going into the night. We had four excellent bands and although I'd never seen Crazy Pills live, their album had been on constant play for the last few weeks. When the show was a resounding success far beyond our expectations, it was in large part because many of the attendees already understood what we learned that night — that Crazy Pills has a infectious and kinetic stage energy that engaged the entire room from the start to the end of their forty minute set. The band is a trio fronted by Amanda B on guitar and vocals, Eddie from pow wow! on bass and Jim from Clouder on drums. The band's debut album Restless is a mix of rockabilly, garage, brit invasion and power pop and it raves from start to finish. Their 9-song set contained seven tracks from the album, one new one and a fairly obscure cover. As with most of the crowd, we couldn't keep from moving our feet throughout the set, and chuckling along with the witty and sometimes blue humor of the banter. Suffice to say that Crazy Pills are now on our must-see list, and that's a good thing for us and our readers. They have several upcoming local dates, including a show at Grand Victory on May 2.
Acidjack and I recorded this set with his Naiant Omnis mounted to the ceiling about 20 feet from the stage and mixed with a fine board feed provided by DBA's indefatigable leader Edan. The recording has all of the energy from the show with clear instrumentation and vocals and we're extremely pleased with the quality. Enjoy!
Stream "Nothing But Love"

Download The Complete Show [MP3] / [FLAC]
Note: All of the material on this site is offered with artist permission, free to fans, at our expense. The only thing we ask is that you download the material directly from this site, rather than re-posting the direct links or the files on other sites without our permission. Please respect our request.
Crazy Pills
2014-04-08
Death By Audio
Brooklyn NY
Digital Master Recording
Soundboard + Upfront Audience
Soundboard + Naiant Omnis > Edirol R-44 (Oade Concert Mod) > 2 x 24bit 48kHz wav files > Soundforge (level adjustments, mixdown, set fades) > CDWave 1.95 (tracking) > TLH > flac (320 MP3 and tagging via Foobar)
Recorded and Produced
by nyctaper
Setlist:
[Total Time 35:34]
01 Break It Down
02 Alright (Get the Hell Out of Dodge)
03 Wedding Rings
04 Superstitious
05 Nothing But Love
06 Trudy June
07 Mr Pharmacist [The Fall]
08 Indictment
09 There are Dangers
If you download this recording from NYCTaper, we expect that you will PLEASE SUPPORT Crazy Pills, like them on Facebook, and purchase their debut album Restless from their Bandcamp page [HERE].