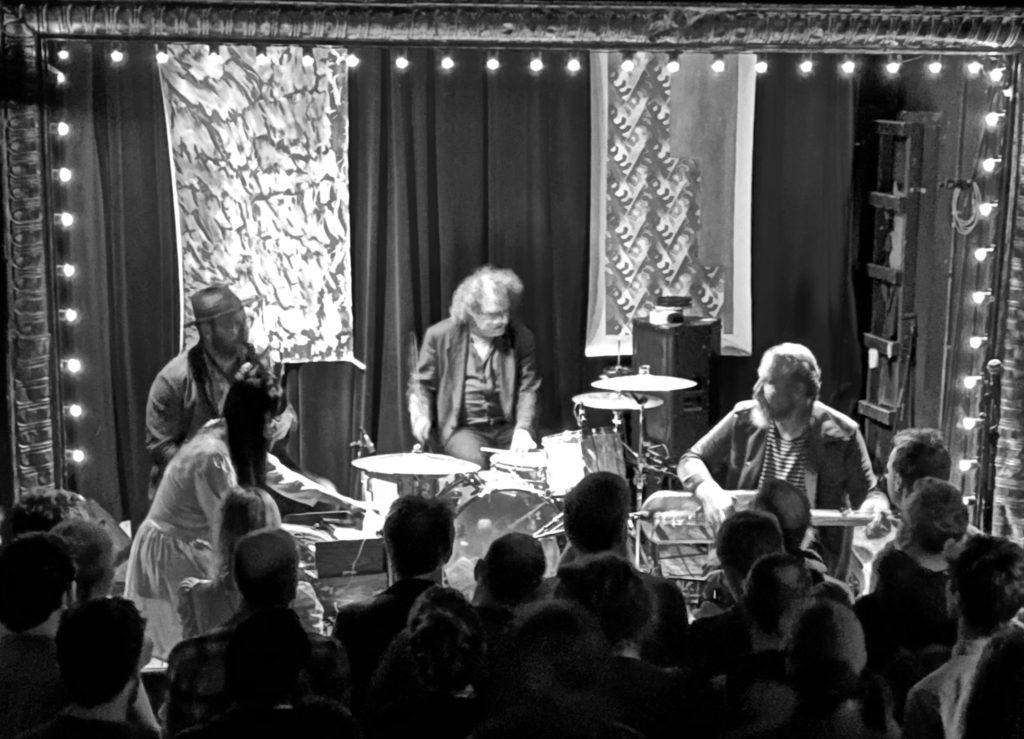 It seems reductive to call Joshua Abrams Natural Information Society "jazz," but language has limits that music does not. To quote our friend Eric PH in his own earlier review, "Mandatory Reality, the latest double-LP from Joshua Abrams Natural Information Society, sounds like a band erasing borders." I couldn't agree more — and this night's single session, dubbed "Surveil Echo Analeptic" by Abrams, plumbs yet more deep territory, incorporating elements of drone, traditional North African music and, yes, jazz into a hypnotic moment. Joined on this night at Union Pool by the very special guest Jim White (Dirty Three, Xylouris White, etc.), Abrams (on the guimbri), Lisa Alvarado (harmonium), Jason Stein (bass clarinet) and White created a piece that felt free and otherworldly, but no less meticulous; Abrams is a master at creating an environment that elevates all players rather than restrain them.
In further good news, while Abrams' catalog of releases on experimental Northampton, Mass. label Eremite Records are almost perpetually sold out, a second pressing of Mandatory Reality has appeared. Get it while you still can.
I recorded this set with Schoeps MK22 "open cardiod" mics and a soundboard feed from Doug Graham. The sound quality is outstanding. Enjoy!
Thanks to Joshua Abrams for permitting us to record and share the performance.
Download the complete show: [MP3/FLAC/ALAC]
Joshua Abrams Natural Information Society
2019-10-04
Union Pool
Brooklyn, NY USA
Recorded and produced by acidjack
Soundboard (engineer: Doug Graham) + Schoeps MK22>KCY>Z-PFA>>Sound Devices MixPre6>24/48 polyWAV>Adobe Audition CC>Izotope Ozone 5>Audacity 2.3.0>FLAC ( level 8 )
Tracks
01 Surveil Echo Analeptic
Natural Information Society on this night:
Joshua Abrams – guimbri, composition
Lisa Alvarado – harmonium
Jason Stein – bass clarinet
Jim White – drums
• Buy Mandatory Reality: Vinyl via Eremite Records / Digital via Bandcamp
• • NaturalInformationSociety.com