The concentration of great psych bands coming out of Sweden these days is astounding: Dungen, Goat, Hills, Centralstödet, The Janitors. That's just to name a few that are on my radar and I'm sure I've barely scratched the surface. But the most well-known psych band to come from Sweden  is almost certainly Träd, Gräs och Stenar (Trees, Grass and Stones) and they undoubtedly loom large for the younger generation.
Today they're called Träden, but shifting band names and performers has always been part of the deal for the group that started off in 1967 as Pärson Sound, which became International Harvester, then just Harvester, before settling on Träd, Gräs och Stenar in about 1969. Despite their reputation as DIY hippies—or perhaps because they were just that—a wonderful amount of documentation survives, with recent archival releases highlighting how incredibly vital and popular their music still is today. Though Pärson Sound never released a proper album, a three-LP set documents their early experimentation. International Harvester/Harvester released two records, Sov gott Rose-Marie and Hemåt, both recently collected as part of the Remains box set. And more than six LP's worth of live Träd, Gräs och Stenar material was collected in a box set from Anthology Recordings a few years ago (their studio albums from the 1970s remain sadly out-of-print).
Träden is just the latest iteration of this band, using both names interchangeably on tour (their first to hit the U.S. since 2004). The sole original member of the band is Jakob Sjöholm, who joined in 1970 (in time to play on the second studio album, Rock för Kropp och Själ). He's joined by musicians from some of those great bands I mentioned above: Hanna Östergren (Hills) on drums, Sigge Krantz (Archimedes Badkar) on bass, and Reine Fiske (Dungen, The Amazing) on guitar and vocals. Their live repertoire includes songs from their new self-titled album, as well as older Träd, Gräs och Stenar songs like "Rock for kropp oct själ" and the well-known "Sanningens silverflod." "När Lingonen Mognar" appears on Träden's album, but was also originally released on Harvester's Hemåt. Whether you call them Träden or Träd, Gräs och Stenar, the music itself is timeless.
Download: [MP3/FLAC]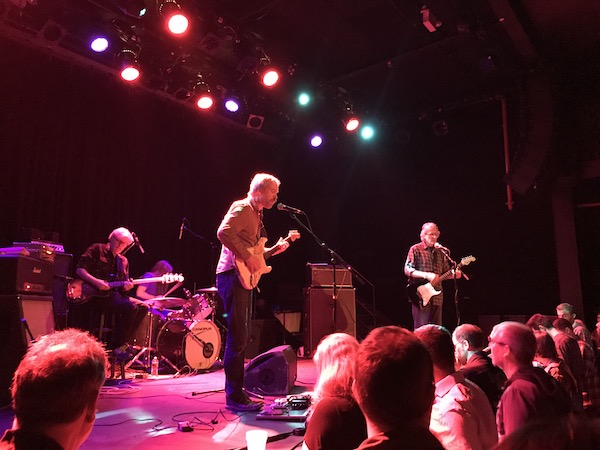 Träden (Träd, Gräs och Stenar)
2018-09-28
Music Hall of Williamsburg
Brooklyn, NY
Recorded and produced by Eric PH for nyctaper.com
Soundboard + MBHO KA200N/603A (at SBD, DIN) > Naiant PFA >> Sound Devices MixPre-6 > WAV (24/48) > Adobe Audition CC (mixdown, compression, normalize, fades) + Izotope Ozone 5 (EQ) > Audacity 2.0.5 (tracking, tagging) > FLAC (24/48, level 8)
Tracks: [1:16:46]
01. Hymn
02. När lingonen mognar
03. Rock for kropp oct själ
04. Punkrocker
05. Tamburan
06. Tänkte bara undra
07. Sanningens silverflod
08. I ljuset av din dag
09. Hoppas du förstår