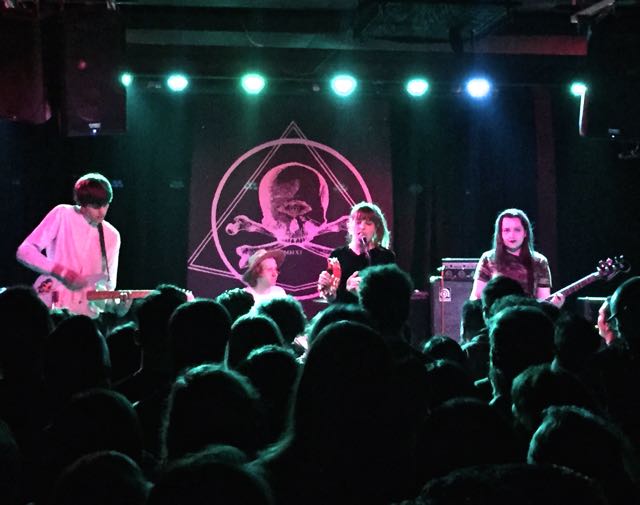 As is all-too-common these days, Makthaverskan had a difficult journey to the U.S. from Sweden for this gig, having canceled at least two New York dates last month due to visa issues. By the time they rolled into Saint Vitus for this sold-out headlining gig, the band needed to be worth the wait. They're a young band, in age and in feel, with frontwoman Maja Milner's lyrics the stuff of youthful confusion, heartbreak, and rage. Compared to the twee, prettified sound more commonly associated with their hometown of Gothenburg, Makthaverskan have a harder edge, but while they may be heavier and more aggressive than, say, Always, they aren't exactly Pharmakon, either. That's to say, Makthaverskan's music is angry without being ugly, a dose of dream-pop with Milner's belted "fuck yous" on top.
The band whipped through this set, a mix of material from their latest record II and their debut. Milner proved more than able to push that voice of hers live, and the band had no problem filling what's usually New York's top metal venue with a wall of sound to go with it. The standouts included early-set favorite "Antabus", as well as the band's latest single "Witness", both not coincidentally chances for Milner to let loose. I was equally impressed, though, with the straight-up dream-pop number "Asleep" that would have closed the set. The song gives a large nod to Talulah Gosh, Heavenly and their fellow late-80s English indie poppers (and thus, indirectly, to Makthaverskan's hometown), and that's not a bad thing. This crowd agreed, chanting for an encore until we got "Inside of Me" from their debut album. It's about, in broad strokes, not wanting someone to leave, and that's also how we felt about Makthaverskan. They've got plenty more to show us.
I recorded this set with Schoeps MK4V microphones inside the soundboard area, together with a board feed provided by Saint Vitus engineer Jeff. The sound quality is excellent. Enjoy!
Download the complete set: [MP3] | [FLAC]
Stream the complete set: 

Makthaverskan
2015-04-06
Saint Vitus
Brooklyn, NY USA
Exclusive download hosted at nyctaper.com
Recorded and produced by acidjack
Schoeps MK4V (DFC, at SBD, PAS)>KCY>Z-PFA>Sound Devices USBPre2 + Soundboard (engineer: Jeff))>>Edirol R-44 [OCM]>2x24bit/48kHz WAV>Adobe Audition CS 5.5 (align, mix down, adjust levels, fades, compression)>Izotope Ozone 5 (harmonic exciter, EQ)>Audacity 2.0.5 (track, amplify, balance, downsample, dither)>FLAC ( level 8 )
Tracks [Total Time 38:44]
01 Outshine
02 Vi Var Manniskor Fran Borjan
03 Antabus
04 Slowly Sinking
05 It's You And It's I
06 Witness
07 No Mercy
08 Something More
09 Asleep
10 [encore break]
11 Inside of Me
If you enjoyed this recording, PLEASE SUPPORT Makthaverskan, like them on facebook, and buy their records directly from the band here.