Follow @acidjacknyc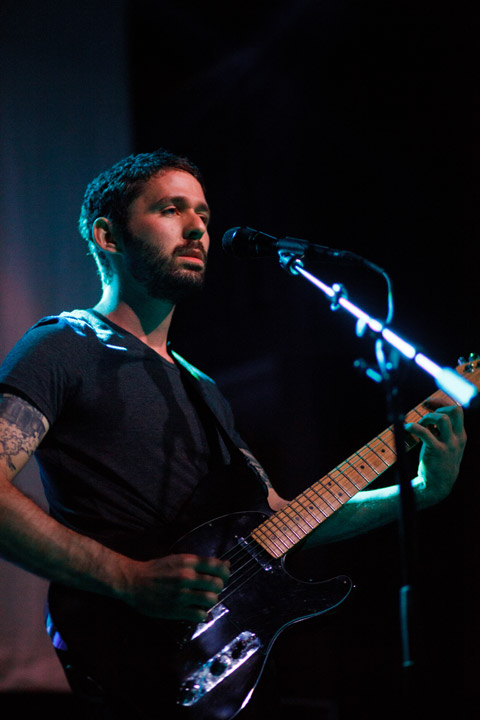 [Photos by Amanda M. Hatfield for BrooklynVegan]
There are many good things to be said about The Antlers, one of the most consistent and interesting bands to arise out of the Brooklyn scene in the past six years, but what's most inspiring about them is how little they seem to care what others are doing. They've never been part of any kind of "-wave"; they've never even really found clear company among stylistically similar bands. If there were aspects of their sound that drew inspiration from elsewhere, the whole was something else entirely, animated by Peter Silberman's unique vocal turns and the group's collective faith in their listeners. Most bands in late-aughts Brooklyn wouldn't have put out a record like the band's debut, Hospice, a concept record from another time whose material was dark and whose sound was hardly going to bring out the tubthumpers who like to hit up Terminal 5 on Friday nights. The Antlers followed that up with Burst Apart, to date the closest thing they've done to a commercial record, even if it was hardly humpbacking a trend, either.
On this Tuesday night, the band showed up at the post-industrial chic and great-sounding back room venue at Rough Trade NYC and played us Familiars, the album they'd released that very day. Among the hardcore fans who showed up — who earned their tickets by buying the vinyl — there couldn't have been a better way to be introduced to it. That whisper-quiet crowd got to hear these songs in their true voice, played by a band whose facility with the songs was hard-earned in the studio. Familiars won't be everyone's bag — even compared to the previous efforts, it's a delicate effort that rewards patience — but for those who respect the band's love of texture, of gorgeous songs that soar only when they really need to, it's a classic. The songs unfolded like dreamscapes, rarely peaking until three or four minutes in, overlaid with Silberman's literary, evocative lyrics. There are a good bit of horns on offer this time around, which I wouldn't trust in less-sure hands, but The Antlers seem to have taken a page from Dan Bejar in that regard, using them at just the right moment. If I'm partial to any of the new songs as yet, it'd be the smooth-flowing "Director", which feels like the product of several different phases of the band's work all at once, and relies on elegiac guitar chords to move it forward.
It was a bit funny to hear Silberman, not yet out of his 20s, to say the band was "feeling the years", but in an odd way it's true. The Antlers aren't the baby band we first witnessed back in early 2008; nor are they one of many flashes in the pan that have come since. The Antlers are a mature, established Brooklyn band, one that has rewarded their experience with an album of similar grace and maturity. See them throughout the U.S., Europe and the UK this summer and fall as they tour Familiars — this is a live experience you don't want to miss.
I recorded this set with a flawless soundboard feed of the mix created by the band's touring engineer Dan Seiders, together with Schoeps MK4V microphones. The sound quality reflects Seiders' years of experience mixing the band and the flawless nature of the room, making for a live album quality experience. Enjoy!
Download the entire set: [MP3] | [FLAC]
The Antlers
2014-06-17
Rough Trade NYC
Brooklyn, NY USA
Exclusive download hosted at nyctaper.com
Recorded and produced by acidjack
Schoeps MK4V (inside SBD cage, PAS)>KC5>CMC6>Sound Devices USBPre2 + Soundboard (engineer: Dan Seiders)>Edirol R-44 [OCM]>2x24bit/48kHz WAV>Adobe Audition CS 5.5 (align, mix down, adjust levels, limiter)>Izotope Ozone 5 (light EQ, effects)>Audacity 2.0.3 (fades, tracking, amplify, balance, downsample, dither)>FLAC ( level 8 )
Tracks [Total Time: 1:02:01]
01 Palace
02 Doppelgänger
03 Hotel
04 Intruders
05 [transition]
06 Director
07 [banter]
08 Revisited
09 [tuning]
10 Parade
11 [tuning2]
12 Surrender
13 [banter2]
14 Refuge
If you enjoyed this recording, PLEASE SUPPORT The Antlers, visit their website, and buy Familiars there.