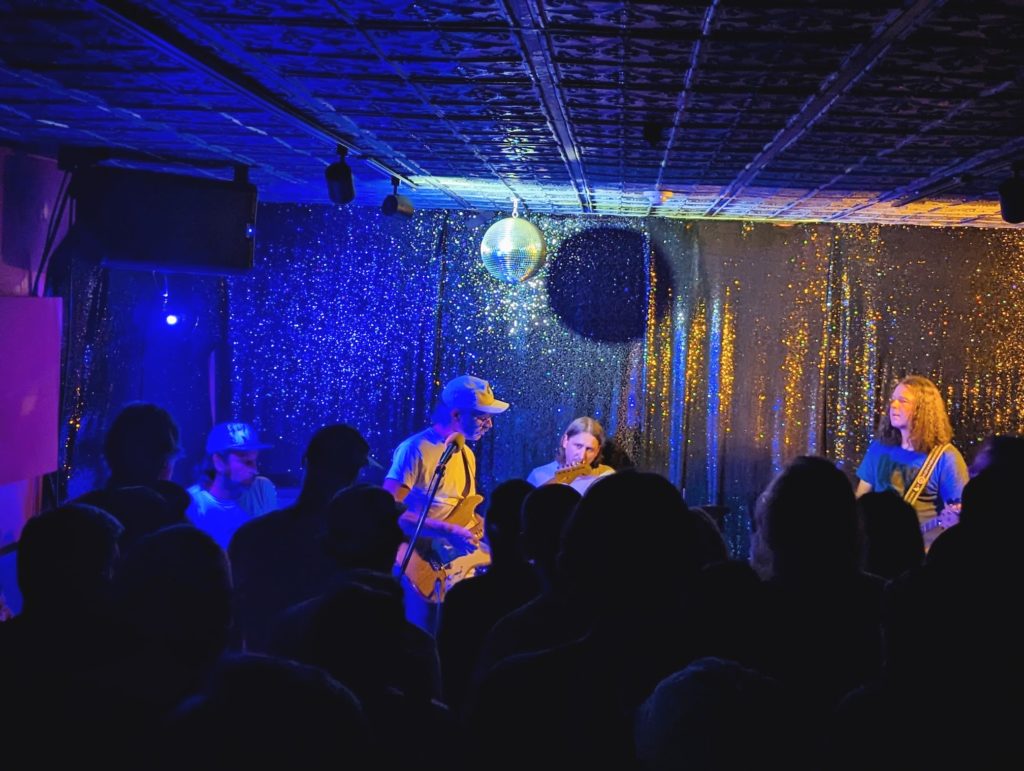 I've been waiting for years to see a Rose City Band show. For 18 of those months, we were all waiting to see anything but even once shows started happening the band didn't come East. When they finally had East Coast dates booked the tour was, sadly, cancelled due to covid. This past Sunday it finally happened. Rose City Band played their first show EVER in NY at Tubby's and we have the recording. 
Rose City Band is Ripley Johnson's (Wooden Shjips, Moon Duo) outlet for fusing the musical loves of his youth; Neil Young, Grateful Dead and Van Morrison are noticeable touch points, with the classic country sounds of Merle Haggard, Buck Owens and the like. During interviews Ripley has often referred to this as summertime music and that's always the association I've had with it. I have vivid memories of sitting on my deck in late spring and early summer of 2020 with nothing to do but enjoy the sunshiny reverb and pedal steel from the first two Rose City Band albums. Nowhere to go, no one to see. Nothing to do but enjoy the turn of the season and the tunes. That experience hasn't changed much. It's always as the sun starts coming out in the Hudson Valley that I turn to these albums. 
During the recording process Ripley has historically handled the heavy lifting alone but live he is supported by an excellent band of Portland heavy hitters. They opened the show with a breezy take on "Empty Bottles" from 2020's Summerlong eventually making their way to a fantastic medley of Mariposa> Me and Willie > Reno Shuffle that truly embraced the choogle-charged, sun baked flow of Cosmic Americana. The sold-out crowd was loud and appreciative all night. New Yorkers aren't well known for their friendliness but hopefully the band felt the love we gave them for their first trip to the state. 
Rose City Band has two more shows left on this leg of the tour before a short break. They will be back at it in early September for another run of East Coast shows with support from Rosali. These will be must see shows if you are in the area; Rosali with the David Nance band backing her was the best set of music I saw all last year. Rose City Band then swings back west in October before heading to Europe in November. Plenty of chances to get out and see them! 
I recorded this from my usual spot in the back of the room by the soundboard with my MBHO's. Tubby's FOH engineer Kyle provided the excellent mix and board feed. Enjoy!
2023-07-23
Tubby's
Kingston, NY
Source: MBHO440 + SDB> SD MixPre 3 > SD (24/48) > Adobe Audition/Izotope 9 > Audacity FLAC (lvl8) > Mp3Tag
Recorded and produced by Kliked
Thanks to Tubby's FOH engineer Kyle for the patch
Empty Bottles
Slow Burn
In The Rain
Mariposa>
Me and Willie>
Reno Shuffle
Ramblin' With The Day
Rabbit
Wee Hours>
Wildflowers
Dawn Patrol
Morning Light
Support this excellent band:
https://rosecityband.bandcamp.com/album/garden-party
https://www.rosecityband.org
Support the venues bringing you interesting music:
https://www.tubbyskingston.com/music-calendar