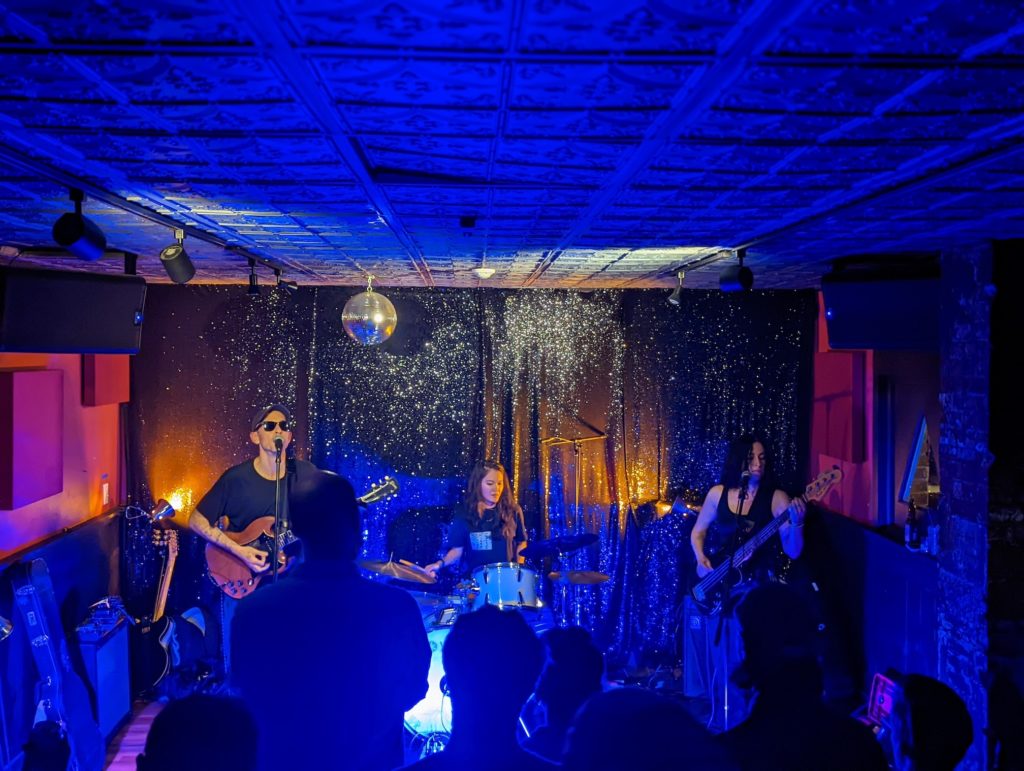 The immediate first impression of Weak Signal is "this dude's guitar tone is going to tear my face off." You could stop at that and have a decent idea of what the band is about but thanks to our own EricPH Weak Signal is now on the internet archive giving us several excellent live options to examine. Close consideration of these recordings reveal more than a monstrous guitar tone; beautiful and expressive song writing, excellent harmonies and one of the most engaging rhythm sections operating today.
The rhythm section, Tran on drums and Sasha on bass, present the aural equivalent of a train coming down the tracks a bit too fast. It feels out of control, like it could crash at any time but then pulls safely to its destination right on schedule. It's that possibility of collapse and the thrill of evading it that makes this band so exciting to listen to. In many ways it reminds me of the great early Kinks rhythm section of Mick Avory and Peter Quaife.
This was the first show with the full band together in six months and features songs from all their records as well as a live debut of a new tune called "Don't Want No Problems." Weak Signal has several upcoming dates including two nights opening for Pavement! Go see them, you won't regret it.
I recorded this from the soundboard with my MBHO mics and a mono board feed from the FOH engineer Kyle. The sound quality is excellent. Enjoy!
Stream and download from the Live Music Archive!
Weak Signal
Tubby's
Kingston, NY
2022-05-13
Source: MBHO440 + SDB> MixPre3 > SD (24/48) > Adobe Audition/izotope ( EQ, Compression) > Audacity (fades, tracking) > FLAC (lvl8) > Mp3Tag
Thanks to Tubby's FOH engineer Kyle for the patch
Recorded and Produced by Kliked
Devotion
Hallelujah Baby
Dripping In Gold
Really Gotta Run
I Don't Miss You
YR Deal
Comeback
Spooky Feeling
Bullet In Your Brain
Don't Want No Problems
Names
Tell Me How You Like It
Drugs In My System
Please support this excellent band by purchasing music from bandcamp!