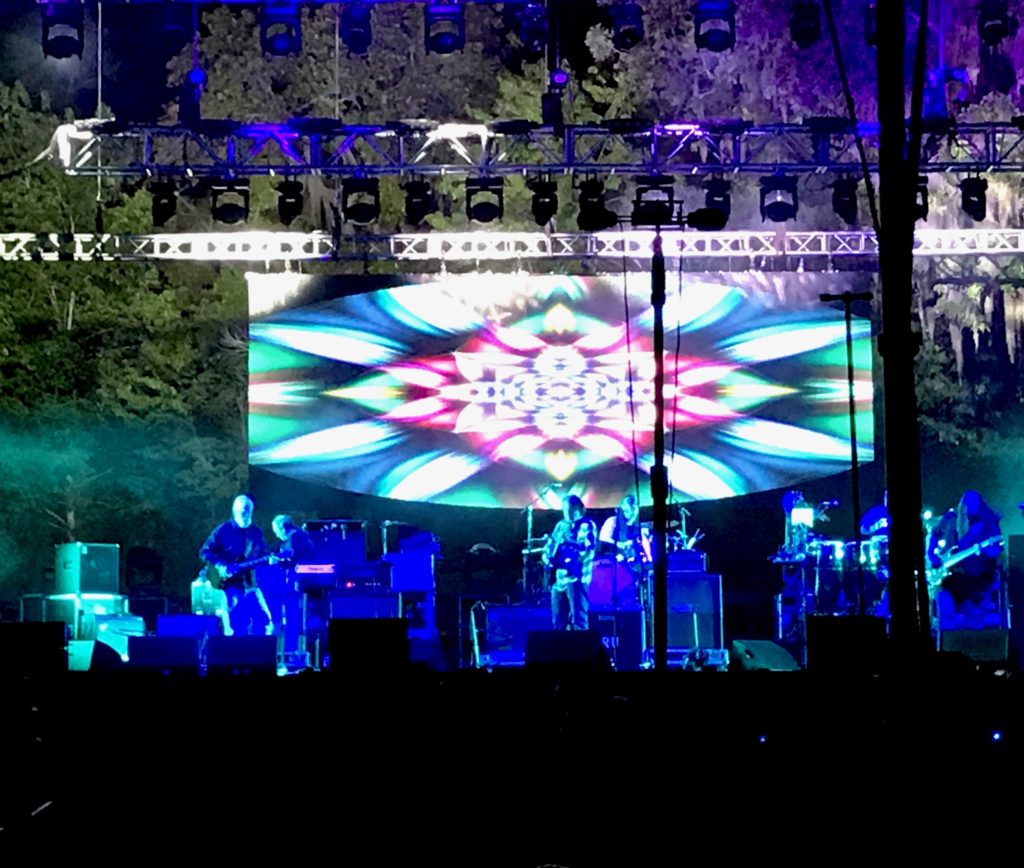 Perennial Southern-rock favorites Widespread Panic have always been better than they had to be. If you go to many festivals that involve like-minded bands, you could be forgiven for getting one bluesy-sounding rock band confused with another. After the deluge of classic rock covers that comes your way, few of these groups really distinguish themselves, but they all get the applause.
Widespread has long been a different animal. Sure, the underlying vein of bluesy-rockness is there, as are some choice covers. But Widespread isn't just playing the familiar — especially on their best nights, it's their transcendent playing of both the familiar and their originals that makes them so special. If the Allman Brothers' "Mountain Jam" or Talking Heads' "Heaven" is one you've heard before, fine, but it's hard to argue with the Widespread treatment of it, particularly the former. Here at Wanee Festival, Widespread were probably the main draw for a significant portion of the crowd, and they acted like they knew that, playing a finely-honed two-hour set that headed deep into the jam zone during an epic sequence of "The Last Straw">"Mountain Jam">"Impossible">"Big Wooly Mammoth">"Christmas Katie" and finally "One Kind Favor." If there's any upside to the reduced touring of Widespread Panic these days, it's the fact that it makes each individual show a bit more special.
I recorded this set with Schoeps MK4V microphones in a centered "forward of the board" position. If not quite as good sounding as the Trey Anastasio and Bob Weir sets, the sound quality is nonetheless excellent. Enjoy!
Download the complete set: [MP3/FLAC/ALAC]
Stream the complete set:


Widespread Panic
April 21, 2017
Wanee Music Festival
Peach Stage
Spirit of the Suwannee Music Park
Live Oak, FL
Hosted at nyctaper.com
Recorded and produced by acidjack
Schoeps MK4V (FOB, DFC)>KC5>PFA>Zoom F8>24/44.1kHz WAV>Adobe Audition CC>Isotope Ozone 5>Audacity 2.0.3 (amplify, track, downsample)>FLAC ( level 8 )
Tracks
01 Ain't Life Grand
02 Love Tractor
03 Cease Fire >
04 Heaven [Talking Heads]
05 Little Kin >
06 Junior
07 Party At Your Mama's House >
08 Stop Breakin' Down Blues
09 Tall Boy
10 The Last Straw >
11 Mountain Jam* >
12 Impossible >
13 Big Wooly Mammoth > Jam >
14 Christmas Katie >
15 One Kind Favor >
16 Saint Ex
17 Imitation Leather Shoes
[encore break removed]
18 Blackout Blues
19 End Of The Show
* with Marcus King on guitar