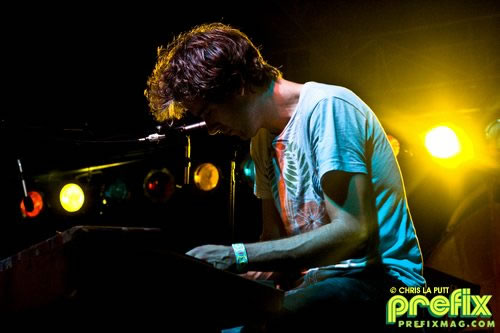 [photo by Chris LaPutt – Prefix Mag – complete set [here]]
On Friday night, Oneida performed their new album Preteen Weaponry for the first time in NYC and the scene could not have been more surreal and yet completely appropriate. As the black rain clouds hovered overhead and the holiday crowd filtered in and around the Seaport, Oneida dipped into their bag of magic tricks and pulled out the most psychedelic prog-rock music they have produced to date — an album with influences from A Saucerful of Secrets to Bug — that could have been appropriately performed in 1968, 1988 or 2008.
As Bobby rose from his keyboard seat to strap on the bass for much of the Preteen set, the center stage of the band shifted to Kid Millions. The keys and guitars set the mood for the album and sustain the long-form melodic structure, but its the drums that are the lead instrument on this album. Kid propels the band while beating relentlessly in double time. Each part of Preteen molds directly into the next, but it is the consistent perfection of the beat that provided the backbone for this outstanding performance.
We recorded this set from a fine position inside of the soundboard tent, and we are quite grateful to the excellent sound crew for the permission to get under their tent and avoid the rain. We are doubly fortunate that the wind did not hamper this recording and we were able to capture this excellent concert with a superb recording. Enjoy!
Direct download of MP3 files (HERE)
Email nyctaper with a request for the download location of the FLAC files.
Firefox users can Down Them All! at once (here).
Oneida
2008-08-29
South Street Seaport
New York, NY USA
Digital Master Recording
Recorded from Inside Front of Soundboard Tent
Approximately 50 Feet from Stage
Neumann KM-150's > Monster Cable > Apogee Mini-Me > digital coax > M-Audio Microtrack 24/96 > 24bit 48kHz wav > Soundforge 8.0 (level adjustments, downsample) > CD Wave 1.75 > Flac Frontend (level 7) > flac
Recorded and Produced by nyctaper
2008-08-31
Premiere Download offered at
http://www.nyctaper.com
[email protected]
Setlist:
[Total time 38:03]
01 Preteen Weaponry Part I
02 Preteen Weaponry Part II
03 Preteen Weaponry Part III
04 Double Lock Your Mind
If you email nyctaper for access to this recording, we expect that you will PLEASE SUPPORT Oneida, visit their website, visit their MySpace page, visit their page at Jagjaguwar Records, and purchase the new CD Preteen Weaponry at the Jagjaguwar site [HERE].