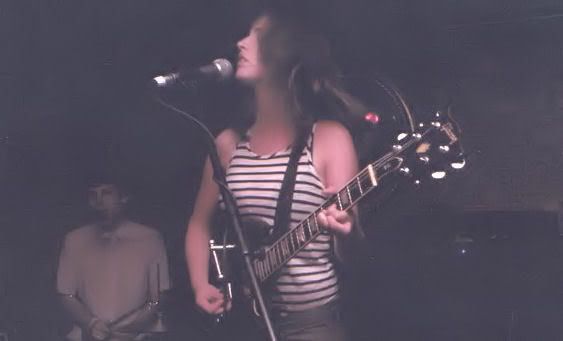 [photo by Bruce Eyster]
It is really quite rewarding when NYCTaper has a positive effect, however small, on the careers of the bands we love. At Naked Hearts outstanding set at the NYCTaper CMJ Show, there was a writer for Deli Magazine in the audience who was impressed enough to publish an article about the band called "Watch out for these guys: Naked Hearts". That article likely resulted in Deli's affiliated music promotion site Jezebel Music booking Naked Hearts at their December showcase at The Delancey on December 6. Naked Hearts also return to play at Cake Shop on December 18.
Last Saturday we had the opportunity to see Naked Hearts as a two-piece. Noah has moved from bass to drums and literally and figuratively has not missed a beat. At Union Hall, Naked Hearts delivered such an outstanding set as an opening act that an observant audience member shouted out "hey, you guys are good!". Guitarist/Vocalist Amy responded with a modest "thanks" and a knowing smile. Naked Hearts release their debut EP These Knees on January 20, 2009 in vinyl and digital download formats.
We recorded from the identical location as the Jeremy Messersmith recording, and the sound quality is superb. There are no chatters on this recording, just a crystal clear capture of an excellent band. Enjoy!
Direct download of MP3 files (HERE)
Download the Complete show in FLAC [HERE].
Naked Hearts
2008-11-22
Union Hall
Brooklyn, NY USA
Digital Master Recording
Recorded from Upfront
15 Feet Center – Microphones on Ceiling bar
DPA 4021s > Edirol UA-5 (Oade Digimod) > digital coaxial > M-Audio Microtrack 24/96 > 24bit 48kHz wav > Soundforge 8.0 (level adjustments, downsample 16/44) > CD Wave > Flac Frontend (level 7, align sector boundaries) > flac
Recorded and Produced by nyctaper
2008-11-29
Setlist:
[total time 26:34]
01 Kill My Name
02 Mass Hysteria
03 We Run
04 Like I Do
05 Cat and Mouse
06 One False Move
07 Call Me
If you email nyctaper for access to this recording, we expect that you will PLEASE SUPPORT Naked Hearts, visit their website, visit their MySpace page, and purchase their new EP These Knees when its released on January 20, 2009.