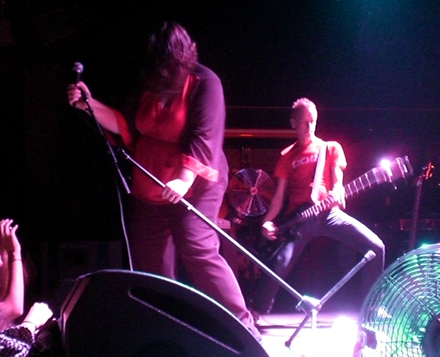 [photo courtesy of Merry Swankster blog]
A year ago we were both excited and impressed by Pylon's performance at Mercury Lounge. Last night, the Athens legends returned to NYC and performed a looser but equally impressive set. Pylon have performed only a few times this year, but retain their signature sound, quirky energy, and most importantly a unique sense of rhythm. The Knitting Factory offered the band a more intimate setting, and with the crowd consisting of mostly WNYU deejays young and old — a crowd of knowledgeable and attentive fans — Pylon thrived on the vibe.
We recorded from the center riser of the balcony, and as the house board was mixed by Pylon's veteran local sound tech, the mix in the room was superb. We are very pleased with the sound quality of this recording. Enjoy!
Direct download of MP3 files (HERE)
Download the Complete show in FLAC [HERE].
Pylon
2008-12-15
Knitting Factory
New York, NY USA
Digital Master Audience Recording
Recorded from Balcony Riser – Dead Center
Neumann KM-150's (AK-50 Hypercardiod Capsules) > Monster XLR Cables > Apogee Minime > digital coaxial > M-Audio Microtrack > 24bit 48kHz wav file > Soundforge (set fades, downsample 16/44, slight level boost) > CD Wave 1.95 (tracking) > Flac Frontend (level 7, align sector boundaries) > flac
Recorded and Produced
by nyctaper
2008-12-15
Setlist:
[Total Time 1:06:35]
01 Cool
02 Dub
03 K
04 No Clocks
05 Weather
06 The Human Body
07 Gravity
08 Danger
09 3×3
10 Working is No Problem
11 Volume
12 Sugarpop
13 Crazy
14 Beep
15 Feast On My Heart
16 [encore break]
17 M Train
18 Stop It
If you email nyctaper for access to this recording, we expect that you will PLEASE SUPPORT Pylon, visit their website, visit their MySpace page, and purchase their official releases and merch from the links at their MySpace page and from the Athens Music site [HERE].