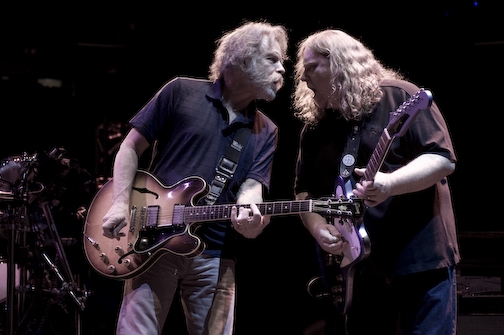 [photo by Jay Blakesberg – courtesy of Jambase]
It was almost exactly fifteen years since we last taped the Grateful Dead at Nassau Coliseum in March of 1994, and more than 30 years since our first Dead show at Nassau in January of 1979. After the death of Jerry Garcia in 1995, all of the various incarnations of this band have always felt somewhat empty and hollow. The 2009 version of the band was fueled initially by a benefit concert for Barack Obama at Penn State University. Apparently moved by the event, this particular 6-piece line-up (four original members, with Warren Haynes and Jeff Chimenti) began this tour in mid April with a series of inspired and extremely well received performances.
With this background, we captured a fine performance by The Dead on Friday night that frankly could stand up to many of the shows we saw in the early 1990's. Warren is a huge presence — providing world class guitar work and vocals that echo Pigpen, Garcia, and even Brent Mydland. The highlights of the long show included the first set traditional pairing of Lost Sailor / Saint of Circumstance, a sweet three-song acoustic set, and an epic Dark Star.
We recorded from the front center rail on the official taper's section with the four microphones and the R-44. This is a capture of outstanding depth and soundstage and we are proud of the results. Enjoy!
This Recording is now available for Download in FLAC and MP3 at Archive.org [HERE].
Stream the Entire Show via Archive.org:

The Dead
2009-04-24
Nassau Coliseum
Uniondale, NY USA
Four-Track Digital Master Recording
Recorded from First Row Center of the
Official Taper's Section
Neumann KM-150s + DPA 4021's > Edirol R-44 (Oade Concert Mod) > 2x 24bit 48kHz wav files > Soundforge (level adjustments, mixdown, set fades) > CDWave 1.95 (tracking) > Flac Frontend (level 7, align sector boundaries) > flac
Recorded and Produced by
nyctaper 2008-04-25
Setlist:
Set 1
[Total Time 1:11:05]
01 Jack Straw
02 Brown Eyed Women
03 Its All Over Now, Baby Blue
04 Easy Wind
05 Death Don't Have No Mercy
06 Don't Ease Me In
07 Lost Sailor
08 Saint of Circumstance
Set 2
Acoustic:
[Total Time 22:44]
01 When I Paint My Masterpiece
02 Peggy-O (Fennario)
03 Looks Like Rain
Electric:
[Total Time 1:22:06]
01 Alabama Getaway
02 Dark Star
03 Drums
04 Space
05 Knockin' On Heaven's Door
06 Goin' Down The Road Feeling Bad
07 [encore break]
08 [donor rap]
09 Touch of Grey
If you email nyctaper for access to this recording, we expect that you will PLEASE SUPPORT The Dead, visit their website, and purchase his official releases from the Dead Net Store [HERE].