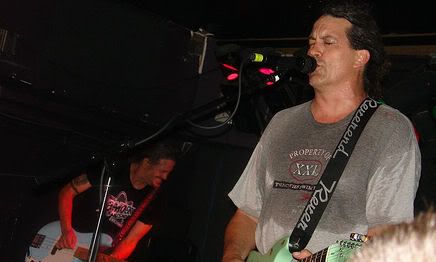 We'll admit to being a little worried about the Meat Puppets when we last saw them — an energetic but sloppy performance at Terminal 5 in September. We feared that the sharp and inspired comeback of a band that had been given up for dead a decade earlier had the potential to become derailed again. Thankfully, our fears were not realized. Shortly after their Fall dates, the Meat Puppets returned to the studio and delivered Sewn Together, their most inspired album in fifteen years. They are currently on tour and reviews of the shows have been universally positive.
At Mercury Lounge on Thursday night, the Meat Puppets delivered an outstanding ninety-minute set of old and new material. The highlights included again an extended "Up On the Sun", a well-played "Rotten Shame" from the new CD, and the raging three-song finale of "Lake of Fire", "Lost" and "Backwater".
Acidjack recorded this show from upfront at the Merc with a fine set of cardioid microphones and the sound quality is outstanding. Enjoy!
Download the MP3 and FLAC files and stream the entire show on the Live Music Archive [HERE]

Meat Puppets
2009-06-11
Mercury Lounge
New York, NY USA
FOB Digital Master Recording
SP-CMC-8 (AT U-853 Cardiods w/ low sensitivity mod and adapter) > SPSB-8 > Edirol R-09-HR > 24bit 48kHz wav > Audacity (set fades, level boost, downsample) > CD Wave (tracking) > Flac Frontend (level 7, align sector boundaries) > flac
Recorded and Produced by Acidjack
Some post work by nyctaper
2009-06-15
Setlist
[Total Time 1:28:06]
01 Sewn Together
02 Touchdown King
03 Blanket of Weeds
04 The Monkey And The Snake
05 Comin' Down
06 Oh, Me
07 Plateau
08 I'm A Mindless Idiot
09 Up On The Sun
10 Rotten Shame
11 Station
12 I'm Not You
13 Look At The Rain
14 Smoke
15 Lake of Fire
16 Lost
17 Backwater
18 [feedback/crowd]
If you email nyctaper for access to this recording, we expect that you will PLEASE SUPPORT The Meat Puppets, visit their MySpace page, and purchase their new release Sewn Together directly from their page [HERE].