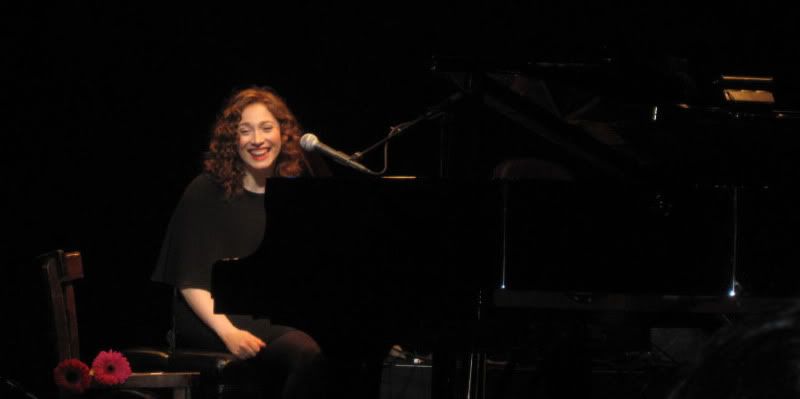 [thanks Greg for photo]
Its been almost two years since we last saw Regina Spektor live, at Hammerstein Ballroom in 2007. We had a ticket to the McCarren Pool show last summer, but torrential rains kept us away. It was with that level of excitement that we entered the new Beacon Theatre to hear the first-ever live performances of much of Regina's new CD, Far, due for release next week. As anticipated, the new material is more mature and elaborate — she played with a string section and drums — but still very much maintains the charming attraction of older Regina material. Of the new songs, the pre-released single "Laughing With" shined the brightest. The second half of the set was dedicated to many of Regina's older and more familiar material — but also included three chestnuts, the infrequently played "Consequence of Sounds", the b-side "Riot Gear", and a new song preliminarily called "The Holocaust Deniers". The latter song sounds like a straightforward rebuke of the title characters "who accuse the dying of lying".
We recorded this set from a nearly perfect location, a direct line about 30 feet in front of the huge PA stacks on the left side. Our best mobile rig captured a recording of stunning clarity, with two caveats — the volume of the obviously excited crowd had to be reduced significantly in post-production, and during the quiet moments there is an apparent hum/buzz in the left channel which I believe was caused by the air-conditioning duct directly above my head. Under the circumstances, we nevertheless feel this is an excellent capture. Enjoy!
Direct download of MP3 files (HERE)
Direct download of FLAC files [HERE]
Regina Spektor
2009-06-17
Beacon Theatre
New York, NY USA
Digital Master Recording
Recorded from Row K, Far Left
30 Feet directly in Front of Left PA Stacks
DPA 4021's > Marantz PMD-660 (Oade BCM) > 16bit 44.1 wav > Soundforge (set fades, level boost, slight eq) > CDWave 1.95 (tracking) > Flac Frontend (level 7, align sector boundaries) > flac
Recorded and Produced by
nyctaper
2009-06-18
Setlist:
[Total Time 1:29:24]
01 Folding Chair
02 Lucky Penny
03 Time Is All Around
04 Eet
05 The Calculation
06 Machine
07 One More Time with Feeling
08 On the Radio
09 Blue Lips
10 Riot Gear
11 Laughing With
12 Bobbing for Apples
13 That Time
14 Apres Moi
15 Human of the Year
16 Poor Little Rich Boy
17 The Holocaust Deniers
18 Consequence of Sounds
19 Man of a Thousand Faces
20 [encore break]
21 Samson
22 Us
23 Fidelity
If you email nyctaper for access to this recording, we expect that you will PLEASE SUPPORT Regina Spektor, visit her website, visit her MySpace page, and purchase/pre-order her new release Far directly from her website [HERE].