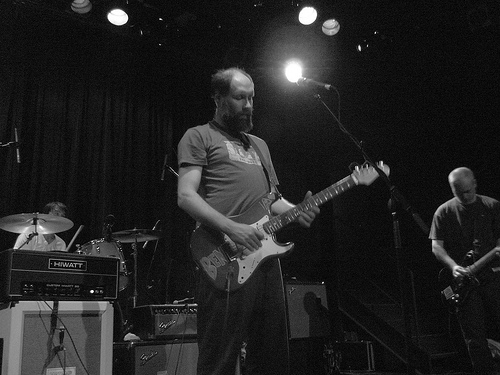 [photo courtesy of joshbg2k]
The second night of Built to Spill at Webster Hall was a show for the old-timers. Opening the set with "Nowhere Nothing FU" from their 1993 debut album, BTS proceeded to play a set that drew heavily from their two masterpieces — 1997's Perfect from Now On and 1999's Keep It Like a Secret. The set's highlight was another 1990's gem, the Halo Benders "Virginia Reel Around the Fountain".
Acidjack recorded this set from a completely different vantage point from the first night, as he chose to go onto the center of the floor with a mobile rig. The result is an excellent recording of great energy and clarity with more audience participation than the previous evening. Enjoy!
Both nights of BTS at the Music Hall of Williamsburg were recorded and will be posted in the coming days.
Direct download of MP3 files (HERE)
Download the Complete show in FLAC [HERE].
Built to Spill
2009-10-13
Webster Hall
New York, NY USA
An ACIDJACK master recording
Equipment: Audix Micro Cariod Capsules>Church Active Cables>SPSB-10>R-09HR (24/48)
Position: FOB, Center, about halfway back, X-Y in hat
Mastering: WAV>Audacity (tracking, downsample, amplify each channel, compress some audience noise, slight EQ, set fades)
Setlist:
01 [tuning jam]
02 Nowhere Nothing Fuckup
03 Time Trap
04 [crowd]
05 Stab
06 [crowd]
07 Center of the Universe
08 [crowd]
09 Untrustable
10 [crowd]
11 Hindsight
12 You Were Right
13 [crowd]
14 Else
15 Planting Seeds
16 Kicked It In The Sun
17 [crowd]
18 Big Dipper
19 [crowd]
20 Virginia Reel Around the Fountain
21 [encore break]
22 Oh Yeah
23 Fly Around My Pretty Little Miss
24 Going Against Your Mind
If you email nyctaper for access to this recording, we expect that you will PLEASE SUPPORT Built To Spill, visit their website, visit their MySpace page, and purchase their official releases from the Official Store at their website [Here].