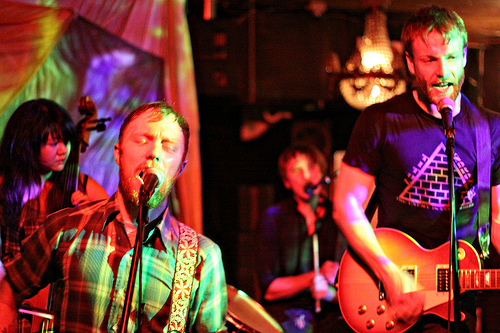 [these amazing photos were taken for nyctaper by Kate Ehle — many more here]
We liked the Kittens Ablaze 2009 release The Monstrous Vanguard so much that we booked the band twice last Thursday. Kittens headlined the NYCTaper CMJ show at Bruar Falls, and also played the After The Jump showcase at Cake Shop later that evening. While the album is structured and melodic with a definite resemblance to early Death Cab, the live version of Kittens Ablaze is a completely different animal. While lead singer Tim Spellman is anchored to his drummer seat, the other five members of the band move boisterously about the stage in celebration of the music. What separates the band from their contemporaries — the interesting mix of violin, cello, synthesizer and guitars — also adds to the unique presentation of the live performance. Highlights of the show included the sing-along number "This Machine is Dying", and the opening track on the album and perhaps the band's strongest number "Gloom Doom Buttercups".
We recorded this set with two microphones near the stage lip and a feed from the board. In a room of this small size some of the instruments were not sent through the system so there is a slight bit of unbalance to the recording. Otherwise, we are pleased with this capture. Enjoy!
Direct download of MP3 files (HERE)
Download the Complete show in FLAC [HERE].
Kittens Ablaze
2009-10-22
Bruar Falls
Brooklyn, NY USA
Digital Master Recording
Soundboard + Audience Matrix
Soundboard + Neumann KM-150s > Edirol R-44 (Oade Concert Mod) > 2x 24bit 48kHz wav files > Soundforge (level adjustments, mixdown, set fades) > CDWave 1.95 (tracking) > Flac Frontend (level 7, align sector boundaries) > flac
Recorded and Produced by nyctaper
2009-10-27
Setlist:
[Total Time 37:01]
01 Strobelight
02 This Machine is Dying
03 Gloom Doom Buttercups
04 Rabbit is a Livewire
05 Hotel Room
06 Evangeline
07 Branches (new song)
08 Wandering Song
If you email nyctaper for access to this recording, we expect that you will PLEASE SUPPORT Kittens Ablaze, visit their website, visit their MySpace page, and purchase The Monstrous Vanguard from the links at their website [HERE].