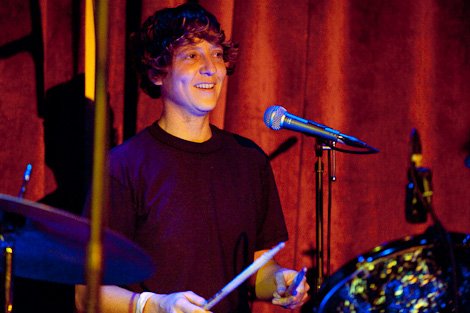 [photo courtesy of Jessica Amaya]
The biggest surprise at the Slumberland 20th Anniversary Concert at Bell House on Saturday was the completely unannounced appearance by Amy Linton, who performed three of her songs backed by JB, Kyle and Andy of Crystal Stilts. While technically not an Henry's Dress or The Aislers Set reunion, the brief set was raw and fun, and Mike Schulman's elated reaction really told the story — how special it was to have Linton perform at this event.
The set was recorded with the same equipment and location as the Pains set and the sound quality is excellent. Enjoy!
Direct download of MP3 files (HERE)
Download the Complete show in FLAC [HERE].
Henry's Dress / The Aisler's Set
2009-11-14
Slumberland Records 20th Anniversary Concert
Bell House
Brooklyn, NY USA
Digital Master Recording
Soundboard + Audience Matrix
Soundboard + Neumann KM-150s > Edirol R-44 (Oade Concert Mod) > 2 x 16bit 44.1kHz wav files > Soundforge (level adjustments, mixdown, set fades) > CDWave 1.95 (tracking) > Flac Frontend (level 7, align sector boundaries) > flac
Recorded and Produced by nyctaper
2009-11-17
Setlist:
[Total Time 8:03]
01 [introduction]
02 You Killed a Boy For Me (Henry's Dress)
03 [banter/tuning]
04 Target Practice (Henry's Dress)
05 [banter/tuning]
06 The Red Door (The Aislers Set)
If you email nyctaper for access to this recording, we expect that you will PLEASE SUPPORT Henry's Dress and The Aislers Set, visit the Aislers Set website, and purchase their official releases which are still available from Slumberland Records [here] and [here].