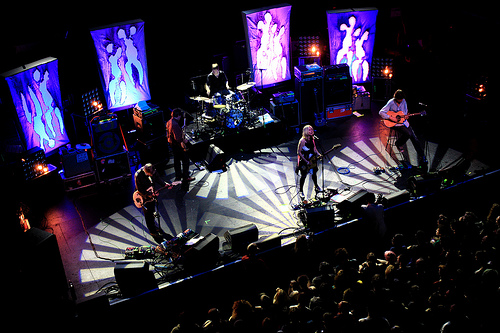 [photo courtesy of l_c_m_tt_]
Acidjack reports:
"The cliche about Sonic Youth as New York's modern rock "elder statesmen" is hard to avoid. Almost no band remains vital for 30 years – not only continuing to perform music (which many do), but making new music, and new good music. These days a pretty good buzz band can consider themselves lucky if somebody cares 9 months later. But Sonic Youth have defied all logic. They may be the only band that can, in a year in which they appeared on the show "Gossip Girl" and played venues around the country that were as big or bigger than Terminal 5, retain their unquestionable status as the kings of underground cool.
In the end Sonic Youth's continued dominance is no mystery at all. The music, quite simply, is just that good, and this show drove that home again and again, as the band played almost the entirety of this year's The Eternal (11 out of the 13 songs) plus several big numbers from their 80s albums (though oddly, almost none of the next-most-recent albums or their 1990s material).
This was my debut outing with my new DPA 4021 microphones, and it was a pretty stressful day thanks to my recorder dying the day before, and Terminal 5 being a usual Saturday "amateur night" environment of drunk people and people who didn't seem to care much about the band. Thanks to Dan for the loaner deck and Johnny for blocking for me. And of course, to Sonic Youth, Dinosaur Jr. and their management for putting on a top-notch performance and allowing us to record. Enjoy!"
Direct download of MP3 files (HERE)
Download the Complete show in FLAC [HERE].
Sonic Youth
2009-11-21
Terminal 5
New York, NY USA
An ACIDJACK master recording
Recorded and produced by acidjack
Hosted at nyctaper.com
Equipment: DPA 4021>Marantz PMD660 (Oade Concert Mod) (16/44.1)
Position: 12′ up, on stand, right side of SBD cage, DIN
Mastering: WAV>Audacity (set fades, tracking, amplify channels)>FLAC ( level 8 )
Tracks
01 Intro
02 No Way
03 Sacred Trickster
04 Calming the Snake
05 Stereo Sanctity
06 Anti-Orgasm
07 Walkin Blue
08 Shadow of A Doubt
09 Antenna
10 crowd
11 Malibu Gas Station
12 crowd
13 Leaky Lifeboat (for Gregory Corso)
14 Poison Arrow
15 crowd
16 Silver Rocket
17 crowd
18 Massage the History
19 crowd
20 The Sprawl
21 Cross the Breeze
22 encore break
23 What We Know
24 White Cross
If you email nyctaper for access to this recording, we expect that you will PLEASE SUPPORT Sonic Youth, visit their website, and purchase their official releases from the Store at their website [here].