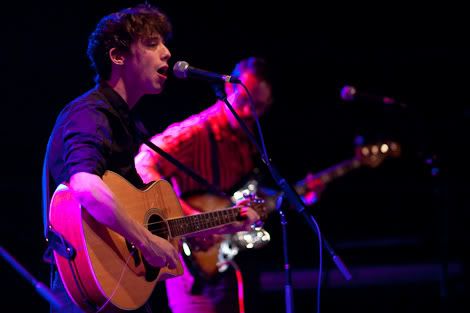 [photo courtesy of Tim Griffin – posted originally at brooklynvegan]
Fanfarlo play NYC again tomorrow night, December 18 at Webster Hall. Tickets are still available.
On the opening night of CMJ 2009, Fanfarlo headlined the Brooklynvegan CMJ show at Music Hall to a packed house. Earlier in the day, we literally struggled with the crowd to get into the main room of Pianos to see Fanfarlo at the Music Slut party. On the heels of their outstanding debut album Reservoir, Fanfarlo quickly became a worthy CMJ "buzz band". Their music combines traditional folk instruments (violin, mandolin, accordian) with indie-pop and adds a lead trumpet to attain a fairly unique mix of styles. The band members hail from England, Sweden and Belgium. The set from this particular show focused primarily on the album material, and closed the set with an excellent verion of the early single "The Few Outsiders".
We recorded this set in the same location and with the same equipment as the Antlers recording from the same night, but this set contains more audience chatter. With that caveat, enjoy!
This recording is now available for download in FLAC and MP3 at Archive.org [HERE].
Fanfarlo
2009-10-20
Music Hall of Williamsburg
Brooklyn, NY USA
Four-Track Digital Master Recording
Recorded from Front of Soundboard Booth
Neumann KM-150s + DPA 4021's > Edirol R-44 (Oade Concert Mod) > 2x 24bit 48kHz wav files > Soundforge (level adjustments, mixdown, set fades) > CDWave 1.95 (tracking) > Flac Frontend (level 7, align sector boundaries) > flac
Premiere Download offered at
http://www.nyctaper.com
[email protected]
Recorded and Produced
by nyctaper
2009-12-17
Setlist:
[Total Time 48:30]
01 Drowning Men
02 I'm A Pilot
03 [banter]
04 Finish Line
05 Harold T. Wilkins
06 [new song]
07 The Walls Are Coming Down
08 Comets
09 Luna
10 [encore break]
11 Ghosts
12 You Are One Of The Few Outsiders Who Really Understands Us
If you email nyctaper for access to this recording, we expect that you will PLEASE SUPPORT Fanfarlo, visit their website, and purchase Reservoir directly from Store at their website [HERE].