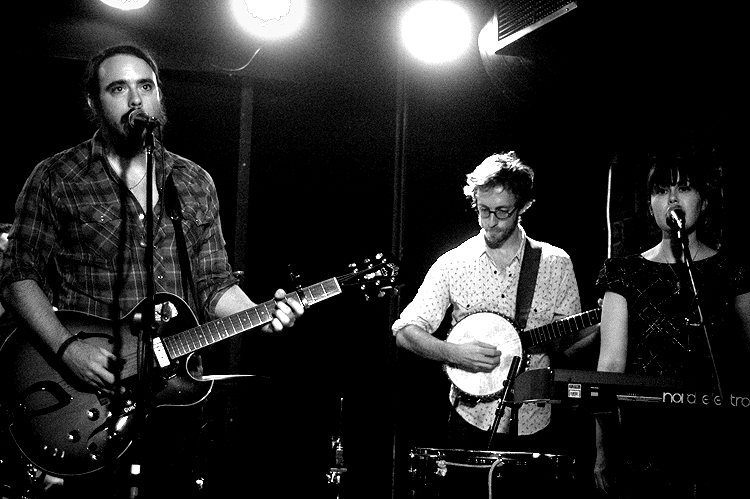 [photos courtesy of Jonny Leather]
The Loom headlined the latest in the excellent Jonny Leather concert series at Rock Shop on Friday last. The band has completed their debut full length album and performed many of the numbers from this outstanding package. The puzzling aspect is that the album has yet to be picked up by a label. The Loom are a band of superb musicians who write intelligent songs. They are all also quite together people — the kind of artists that should be overwhelmed with suitors. One can only hope that its just a matter of time until a smart indie label works with this band to allow it to reach the wider audience it deserves. At Rock Shop, the Loom's performance was perhaps tighter than we have ever seen, and John's vocal harmonies with new member Sarah were in perfect unison. The Loom will return to Rock Shop for a show on Monday September 27.
We recorded this set under the same conditions as the Common Prayer recording and the sound quality is excellent. Enjoy!
Stream "True Believers All":
[audio:http://www.nyctaper.com/L0505Loom1111/04%20TheLoom2010-08-13_nyctaper_t04.mp3]
Direct download of complete show in MP3 files (HERE)
Download the Complete show in FLAC [HERE].
The Loom
2010-08-13
The Rock Shop
Brooklyn, NY USA
Digital Master Recording
Soundboard + Audience Matrix
Soundboard + Neumann KM-150s > Edirol R-44 (Oade Concert Mod) > 2x 24bit 48kHz wav files > Soundforge (level adjustments, mixdown, set fades) > CDWave 1.95 (tracking) > Flac Frontend (level 7, align sector boundaries) > flac
Recorded and Produced by nyctaper
2010-08-20
Setlist:
[Total Time 56:22]
01 With Legs
02 The Middle Distance
03 Doldrums
04 True Believers All
05 [banter]
06 A Song of Faint Praise
07 [banter]
08 The First Freeze
09 Song for the Winter Sun
10 Curtain Calls
11 For the Hooves that Gallop
12 Snowed In
13 Helen
14 [encore break]
15 [new song]
If you email nyctaper for access to this recording, we expect that you will PLEASE SUPPORT The Loom, visit their MySpace page, and purchase their debut EP At Last Light from the links on their MySpace page.