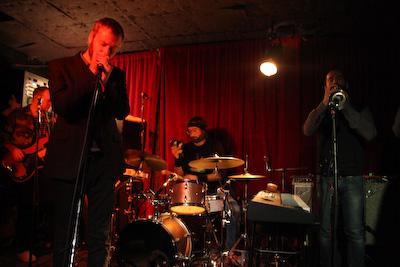 [photo from Ira's Hanukkah Diary]
The National last played NYC at Terminal 5 in July, a concert we covered for the site. Its hard to imagine that we would next see a band of that stature in Maxwell's, but the Yo La Tengo Hanukkah shows bring surprises of all sizes. Although we were clued into this appearance earlier in the week (and the Village Voice spread our tweet), it was still pretty surreal to see the National take the stage in front of a hundred or so people. The band and their mini horn section managed to fit pretty comfortably on the stage, and they worked through a shortened version of the standard set. In a brief conversation I had with Bryce before the show, he remembered that the band had played Maxwell's several times early in their history, and there were references during the show to those times. Despite how far they've come, The National still retain their perspective and the material was as authentic and powerful up close in the intimate venue as it was in the large ones they play now. The National will spend much of the first half of 2011 on tour in Europe, but we expect to see them again in NYC this Summer, although never again at a venue this compact.
We recorded this set with all six of our high-end microphones mixed in eight channels with a slight board mix. We used the Neumann's for clarity, the DPAs for warmth and the Schoeps for the low end. The results are pretty outstanding. Enjoy!
We are no longer offering this particular recording, as the sound quality did not meet our standards. We now offer two separate versions, taken from the two-four track recordings captured by acidjack and nyctaper. The new versions are [HERE].
The National
2010-12-08
Maxwell's
Hoboken, NJ USA
Digital Master Recording
Eight Channel Soundboard + Audience Matrix
Soundboard + DPA 4021s + Neumann KM-150s + Schoeps Schoeps MK-41s > 2x Edirol R-44 (Oade Concert Mod) > 4x 24bit 48kHz wav files > Soundforge (level adjustments, mixdown, set fades) > CDWave 1.95 (tracking) > Flac Frontend (level 7, align sector boundaries) > flac
Recorded and Produced by
nyctaper and acidjack
2010-12-16
Setlist:
[Total Time 56:52]
01 [introduction]
02 Start a War
03 Slow Show
04 Bloodbuzz Ohio
05 [banter]
06 Conversation 16
07 [banter]
08 Apartment Story
09 [banter]
10 Abel
11 Green Gloves
12 Fake Empire
13 Mr. November
14 Afraid of Everyone
15 [banter]
16 Terrible Love
If you email nyctaper for access to this recording, we expect that you will PLEASE SUPPORT The National, visit their website, and purchase their official releases from The National's Shop [HERE].