[photos for nyctaper by David Andrako]
Last night at Bowery Ballroom was a special night for so many reasons. Sharon Van Etten has been one of my personal favorite performers for several years — we have followed her literally from her days playing solo in small clubs when her recordings were home demos. From the beginning, there was always something so magical about her voice, her songwriting, her honesty, and her intrinsic goodness. I was convinced from the very first time I saw her perform that her music was a unique talent. It also helped that she is also a really nice person. As her career has unfolded and the music world has begun to recognize her gifts, it has also been a pleasure to watch her development. Her latest album Epic is the torch that has created her "blow up". Last night Bowery Ballroom was absolutely packed — four deep in the balcony — and the love was flowing. Sharon understands that she has reached an important point in her career, but instead of basking in the moment, she gave out the love to her family, friends and supporters — many of whom were in the audience or guests on stage. The performance of "Love More" with Peter Silberman of the Antlers encapsulated the night — the support of talented friends helping Sharon spread her beautiful art. My own personal gratification at witnessing the elevation of this special talent to the type of adoration she deserves is truly heartfelt. Every hour I have spent working on nyctaper was made worthwhile in spades last night. Thanks, Sharon.
I recorded this set from the balcony rail with the four microphone rig. Bowery Ballroom's sound engineer Kenny was totally dialed in this evening and the sound quality in the venue was superb. Also, the crowd was respectful during the right moments and raucous when appropriate. As a result, we are extremely pleased with the sound quality of this special concert. Enjoy!
Stream "Love More" (with Peter Silberman):
[audio:http://www.nyctaper.com/S0606SharonVE8008/Love%20More%20(with%20Peter%20Silberman).mp3]
Stream "Strange Currencies" (REM cover):
[audio:http://www.nyctaper.com/S0606SharonVE8008/Strange%20Currencies%20%5bREM%5d.mp3]
This Recording is now available to Download in FLAC and MP3 at Archive.org [HERE].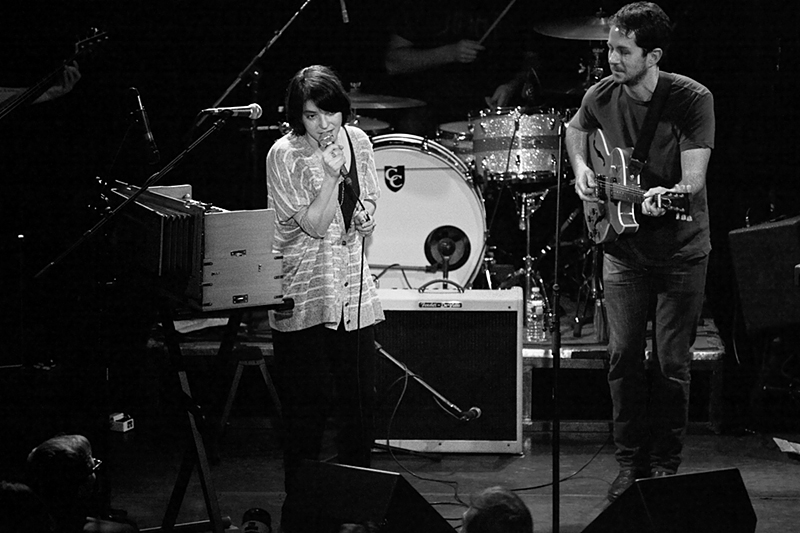 Sharon Van Etten
2011-01-08
Bowery Ballroom
New York, NY USA
Four-Track Digital Master Recording
Recorded Balcony Railing
Neumann KM-150s + DPA 4021's > Edirol R-44 (Oade Concert Mod) > 2x 24bit 48kHz wav files > Soundforge (level adjustments, mixdown, much audience volume reduction, set fades) > CDWave 1.95 (tracking) > Flac Frontend (level 7, align sector boundaries) > flac
Recorded and Produced by nyctaper
2011-01-09
Setlist:
[Total Time 1:09:43]
01 Introduction
02 A Crime
03 Peace Sign
04 Save Yourself
05 [banter]
06 One Day
07 [banter2]
08 Don't Do It
09 [banter3]
10 Tornado
11 [banter/band introductions]
12 Tell Me
13 Ask
14 All I Can
15 [banter4]
16 Love More (with Peter Silberman)
17 [encore break]
18 Damn Right
19 Give Out
20 [banter5]
21 Strange Currencies [REM]
If you email nyctaper for access to this recording, we expect that you will PLEASE SUPPORT Sharon Van Etten, visit her website, and purchase her new CD epic from Bada Bing Records [HERE].