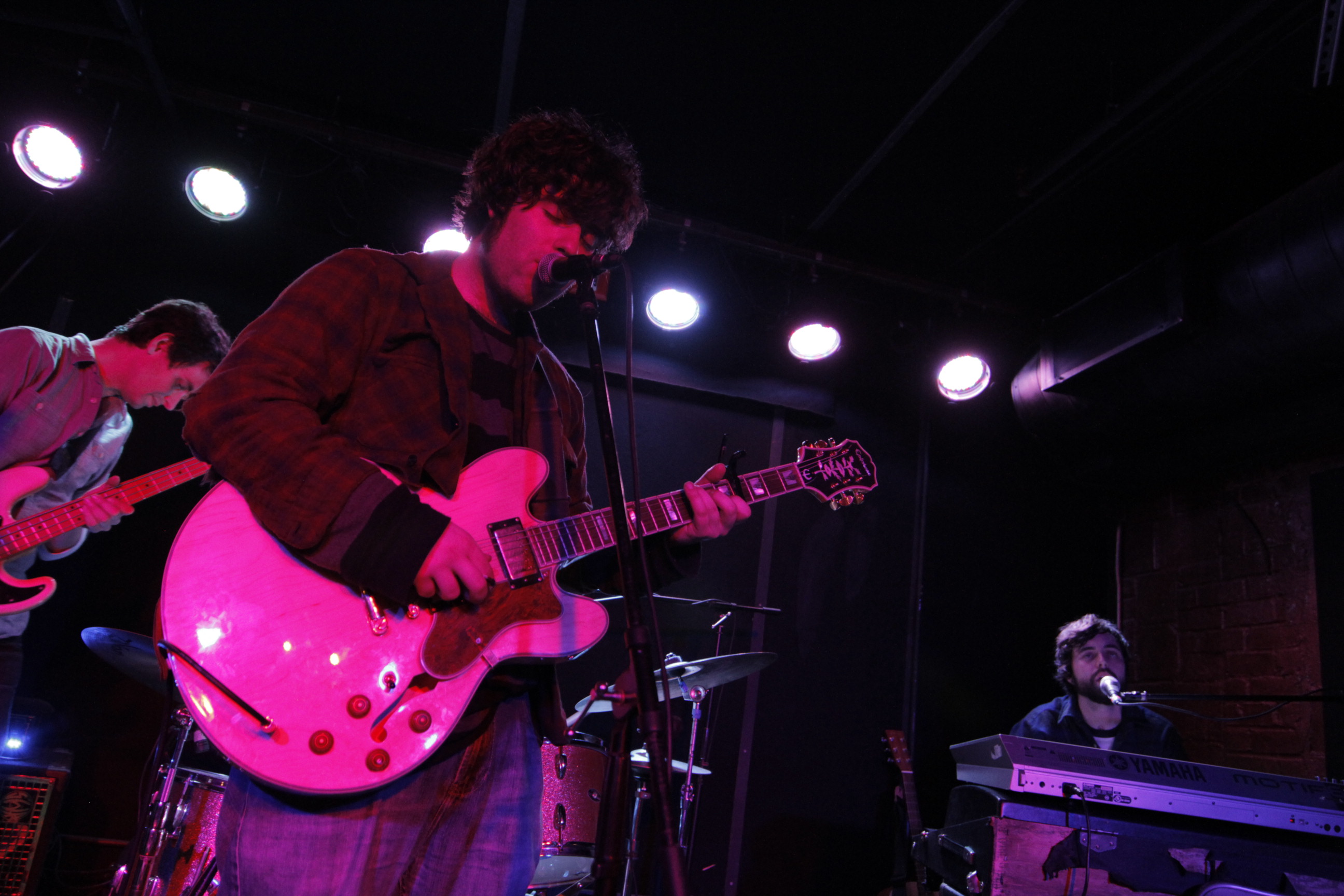 [photo by Kevin Kaim from Duke Street Blog]
While the critically easy way to approach The Moondoggies is to describe them as another in the line of Northwest "beardo" bands (i.e. Fleet Foxes, Band of Horses), their high-energy show at The Rock Shop on Sunday demonstrated their versatility and unwillingness to be pigeonholed. As the band opened with one of their oldest songs "Keep Her On The Line", the folk rock strumming was forefront, but as the set progressed, the variety of styles and influences were diverse. "Its A Shame" owes a debt to Tonight's The Night-era Neil Young, while "Black Shoe" (streaming below) echoes early Wilco, and "Ain't No Lord" could be performed by Gary Louris. Perhaps acknowledging the granddaddies of the entire genre, Moondoggies closed the set with a cover of the Byrds version of the Dylan classic "You Ain't Going Nowhere" (also streaming below). The Moondoggies new album Tidelands showcases their unique take on these various genres and establishes an identity for this superb band, and like their predecessors, their growth will only yield greater results.
I recorded this set with the DPA's at the front of the board and mixed it with a soundboard feed. Unfortunately, for some reason the soundboard has a persistent whine/hum that rendered it unusable. As a result, this recording is the straight audience capture. There is some crowd chatter, but overall its still an excellent recording. Enjoy!
Stream "Black Shoe":
[audio:http://www.nyctaper.com/M3001Moondoggies2110/Black%20Shoe.mp3]
Stream "You Ain't Going Nowhere" (Dylan/Byrds cover):
[audio:http://www.nyctaper.com/M3001Moondoggies2110/You%20Ain%27t%20Going%20Nowhere%20%5bDylan%5d.mp3]
This recording is now available to download as FLAC or MP3 at Archive.org [HERE].
Moondoggies
2011-01-30
The Rock Shop
Brooklyn, NY USA
Digital Master Audience Recording
DPA 4021s > Edirol R-44 (Oade Concert Mod) > 24bit 48kHz wav file > Soundforge (level adjustments, mixdown, set fades) > CDWave 1.95 (tracking) > Flac Frontend (level 7, align sector boundaries) > flac
Recorded and Produced by nyctaper
2011-02-02
Setlist:
[Total Time 1:31:56]
01 Keep Her On The Line
02 [banter]
03 It's a Shame, Its a Pity
04 Tidelands
05 What Took So Long
06 [banter2]
07 Lead Me On
08 When You're Young
09 Black Shoe
10 [banter3]
11 Ain't No Lord
12 Jesus On The Mainline
13 Save My Soul
14 Changing
15 Butte, Montana
16 [banter4]
17 Fly Mama Fly
18 [tuning jam]
19 Bogachiel Rain Blues
20 [banter5]
21 You Ain't Going Nowhere [Dylan]
22 [encore break]
23 Down The Well
24 Night and Day
If you download this recording from NYCTaper, we expect that you will PLEASE SUPPORT The Moondoggies, visit their website, and purchase their new album Tidelands from the Hardly Art Records website [HERE].