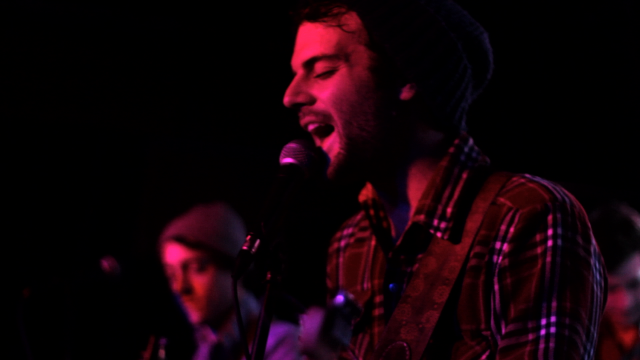 [photo by Bill Antonucci from Duke Street Blog]
Tonight the Moondoggies/Quiet Life tour comes to a close with a show in Portland, the home base of Quiet Life. The two bands crossed the nation in unison, both as friends and as bands with musically similar identities. Two weeks ago, we caught the tour at Rock Shop and posted the Moondoggies recording last week. The opening set that night at Rock Shop was a revelation. Quiet Life write compelling songs with a strong dose of Americana. The vocalist Sean Spellman has a natural stage presence and the band's excellent musicianship also shines live. The band released their new album Big Green the same week as this show, and the new songs were prominently featured in the setlist, including the extended jam of the set closing "Nighttime" (streaming below).
I recorded this set in the same manner as the Moondoggies set from the same night and the sound quality is excellent. Enjoy!
Stream "Nighttime":
[audio:http://www.nyctaper.com/Q3001QuietLife1120/18.%20Nighttime.mp3]
This Recording is now available to Download in FLAC and MP3 at Archive.org [HERE].
Quiet Life
2011-01-30
The Rock Shop
Brooklyn, NY USA
Digital Master Audience Recording
DPA 4021s > Edirol R-44 (Oade Concert Mod) > 24bit 48kHz wav file > Soundforge (level adjustments, mixdown, set fades) > CDWave 1.95 (tracking) > Flac Frontend (level 7, align sector boundaries) > flac
Recorded and Produced by nyctaper
2011-02-08
Setlist:
[Total Time 47:03]
01 [introduction]
02 San Luis Obispo
03 Storm Clouds
04 Cave Country
05 [banter]
06 Skin and Bones
07 [banter2]
08 Big Green
09 No Surprise
10 [banter3]
11 Housebroken Man
12 Downtown
13 [banter4]
14 Sherry Darling [Springsteen]
15 City Life
16 [banter5]
17 [set up jam]
18 Nighttime
If you download this recording from NYCTaper, we expect that you will PLEASE SUPPORT Quiet Life, visit their website, like their Facebook page, and purchase their new album Big Green from the Merch link at their website [HERE].