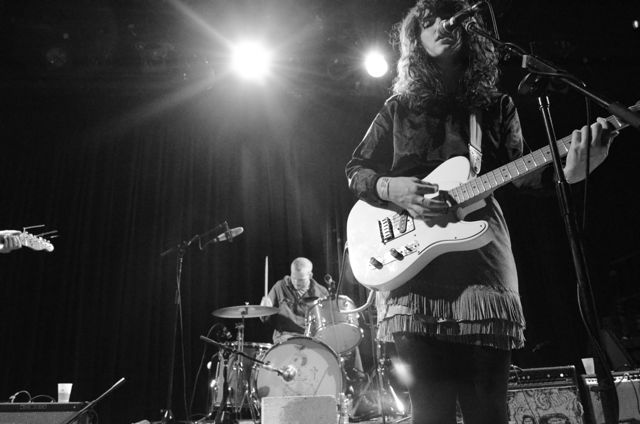 Brooklyn's Widowspeak could be considered a Pacific Northwest import of sorts – vocalist/guitarist Molly Hamilton and drummer Michael Stasiak hail from Tacoma, Washington (guitarist Robert Thomas is from Chicago) and the rain-washed influence of that region suffuses both their sound and their songwriting.  Stylistically, you hear it in their guitar playing, which picks up the jangly, rangy sound of some of the early K Records acts like Beat Happening, and in the band's unforced delivery.  There is a mellow, wistful air to Widowspeak that is uncommon to hungry young East Coast bands; rather than blaring "hear me NOW!" their approach is more akin to, "don't worry, we know you'll get it eventually."  Which is to say that, in a scene thoroughly embracing the 90s at the moment, Widowspeak are firmly more in the SubPop than the shoegaze camp.  Hamilton's vocals are sure to garner their fair share of favorable comparisons – one reviewer compared Hamilton's distant, ghostly moan to Mazzy Star, but I prefer to think of her as a successor to Chan Marshall, aka Cat Power.  Her vocals talents were on full display this past Thursday night at Glasslands, where the band gave us a taste of some of the material they hope to release this summer on their forthcoming full length on Captured Tracks.  The band gave us a tight, well-rehearsed and set with few digressions, with a mix that emphasized Hamilton's vocals.  Their current 7″ single (also available on Captured Tracks) "Harsh Realm" is both a knowing reference to an old joke (this link is worth reading) about grunge slang, as well as a paean to Hamilton and Stasiak's roots, and that song also closed out this eight-song set.  Another highlight was the band's sincere rendition of Chris Isaak's classic, "Wicked Game", which went perfectly with the band's style and sound.
I recorded this set with the DPA microphones and a soundboard feed by Derek of Glasslands.  The sound quality is excellent.  Enjoy!
Stream "Harsh Realm":
[audio:http://www.nyctaper.com/W3030Widowspeak0211/09 Harsh Realm.mp3]
Stream "Wicked Game":
[audio:http://www.nyctaper.com/W3030Widowspeak0211/07 Wicked Game.mp3]
Direct download of MP3 files [HERE]
Download the Complete show in FLAC [HERE].
Widowspeak
2011-03-03
Glasslands
Brooklyn, NY  USA
An acidjack master recording
Recorded and produced by acidjack for nyctaper.com
Equipment: DPA 4021+Soundboard>Edirol R-44 [Oade Concert Mod]
Position: ROC, balcony, ~ORTF
Mastering: 2x24bit/48kHz WAV>Audacity (mixdown, adjust levels, smooth peaks, amplify and balance, downsample)>FLAC ( level 8 )
Tracks
01 Burnout
02 Yellow Light
03 Brainfreeze
04 banter
05 Nightcrawlers
06 Ghost Boy
07 Wicked Game [Chris Isaak]
08 Pines
09 Harsh Realm
If you download this recording from NYCTaper, we expect that you will PLEASE SUPPORT Widowspeak, visit their MySpace page, and purchase their forthcoming LP and the "Harsh Realm" 7″ from Captured Tracks.