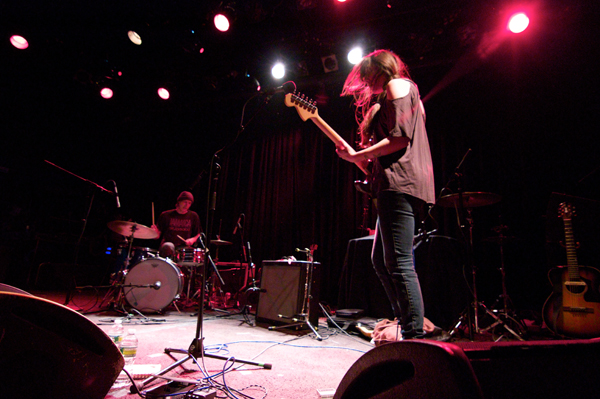 [photos by Amanda Hatfield]
We have seen She Keeps Bees five times in the last year, and they have never failed to deliver the goods. Of the 12 bands at our 2010 CMJ show, they were perhaps the best received of all the excellent acts. She Keeps Bees opening set at Music Hall of Williamsburg on Thursday last was no exception. Due to the sound mix up in the balcony, Jessica's vocals were not as prominent as usual, but this gave us the opportunity to focus on Andy's precise percussion work. As the entirety of the "rhythm section", the drums in this duo are crucial — to keep the time but also to fill the gaps between Jessica's vocal flourishes. As She Keeps Bees continues to impress and develop a much-deserved reputation for excellent performances, the duo anticipate a productive 2011. Dig On will be released in the Summer, and much touring will follow. We'll tweet the dates when we have them.
I recorded this set in the same manner as the Sharon Van Etten set, and the sound quality is clear, but we would have preferred a greater vocal presence in the house mix. Enjoy!
Stream "New Seed":
[audio:http://www.nyctaper.com/S5001SheKeepsBees0210/12.%20New%20Seed.mp3]
Direct download of complete show in MP3 files (HERE)
Download the Complete show in FLAC [HERE].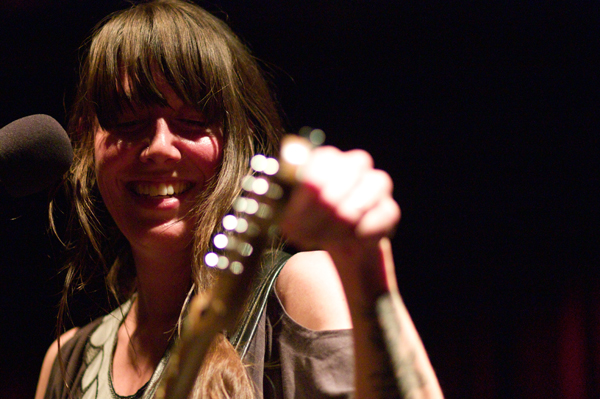 She Keeps Bees
2011-04-16
Music Hall of Williamsburg
Brooklyn, NY USA
Digital Master Audience Recording
Recorded from Balcony Rail
Far Right 15 feet from Stacks
Neumann KM-150s > Edirol R-44 (Oade Concert Mod) > 24bit 48kHz wav file > Soundforge (level adjustments, mixdown, set fades) > CDWave 1.95 (tracking) > Flac Frontend (level 7, align sector boundaries) > flac
Recorded and Produced by nyctaper
2011-04-29
Setlist:
[Total Time 27:02]
01 [introduction]
02 Release
03 [banter1]
04 Make It Easy
05 [banter2]
06 I Don't Believe You
07 [banter3]
08 Gimme
09 Ribbon
10 [banter4]
11 [new song]
12 New Seed
13 [banter5]
14 [new song2]
15 [banter6]
16 Cold Eye
If you download this recording from NYCTaper, we expect that you will PLEASE SUPPORT She Keeps Bees, visit their website, and purchase their excellent releases from their Bandcamp Page [HERE].