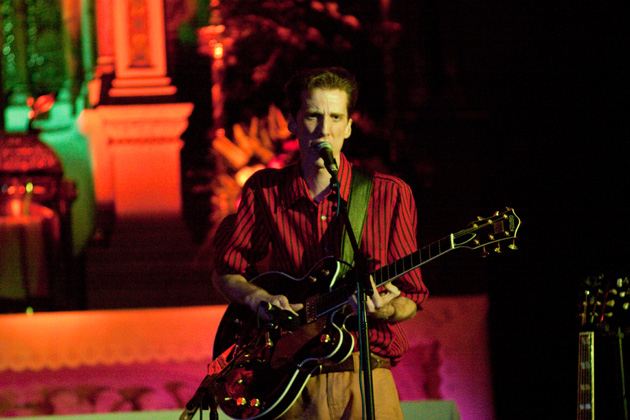 [photo by Maryanne Ventrice – courtesy of Prefix Magazine]
The opening night of The Northside Festival offered a must-see event, Atlas Sound performing inside the beautiful and ornate Church of St. Cecelia in a remote section of Eastern Williamsburg. I last saw Atlas Sound eighteen months ago, at a memorable show at Bell House, but missed Bradford Cox's solo project the last time he played in town. On Thursday night, Bradford brought a full slate of new material and performed six new songs in a thirteen song set. Of the new numbers, only "Terra Incognita" has a known title, but each of the songs represent a continued evolving of Cox's ability to create intricate melodies through the precise synchronization of looped guitar effects. In the encore segment, Bradford went as far as to create an improvised song from whole cloth that miraculously sounded nearly complete. It was quite an appropriate conclusion for a performance on the altar of a catholic church.
We recorded this set with the warmer DPA microphones on a stand elevated to 12 feet at a distance from the stage of approximately 30 feet and mixed it with a well balanced feed from the board. The natural reverb of the room compliments the clarity of the line feed for a superb recording. A caveat is that there are intermittent bits of static from the stage during the second half of the set, and one burst of stage noise during the first song. Enjoy!
Stream "Sheila":
[audio:http://www.nyctaper.com/D9090Deerhunter8282/04.%20Sheila.mp3]
Direct download of complete show in MP3 files (HERE)
Download the Complete show in FLAC [HERE].
Atlas Sound
2011-06-16
St. Cecelia Church
Brooklyn, NY
Digital Master Recording
Four Channel Soundboard + Audience Matrix
Soundboard + DPA 4021s > Edirol R-44 (Oade Concert Mod) > 24bit 48kHz wav file > Soundforge (level adjustments, mixdown, set fades) > CDWave 1.95 (tracking) > Flac Frontend (level 7, align sector boundaries) > flac
Recorded and Produced by nyctaper
2011-06-20
Setlist:
[Total Time 1:15:23]
01 [new song – Take It Slow]
02 Te Amo
03 Walkabout
04 Sheila
05 [new song – Your Pain]
06 [new song – I'm A Prick Man]
07 [banter]
08 Terra Incognita
09 Flagstaff
10 Attic Lights
11 [encore break]
12 [improvised new song]
13 [banter]
14 [new song – My Material]
If you email nyctaper for access to this recording, we expect that you will PLEASE SUPPORT Atlas Sound, visit the MySpace page, visit Bradford's blog, and purchase the latest album Logos directly from the Kranky Records website (here).