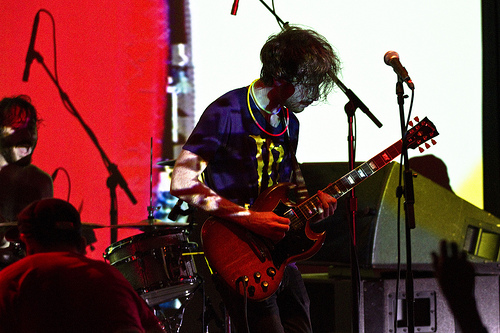 [photo by Thomas Dougherty]
I'd like to claim to have predicted the kind of huge success that Anamanaguchi has achieved since we saw them last at the Knitting Factory in January, but really I was somewhat late to the game. The band sold out the Knit that cold night, but six months later Music Hall of Williamsburg was packed to the walls on the hottest night in memory. By the time Anamanaguchi took the stage at 11 pm after two energetic openers, the crowd was absolutely manic. The quartet entered to a throbbing programmed beat and worked the crowd for a couple of minutes before breaking into a frenzied "Mess". Immediately, massive crowd surfing began and a stream of stage jumpers continued unabated throughout the seventy-minute set. Although they are labeled as a 8-bit chiptune band, the energy in Music Hall was clearly right out of the punk manual. The first half of the set continued without break, as each song combined the four lively musicians with the band's layered synthesizers. By the time the band stopped to catch their wind and switch some guitars, it seemed as if everyone in the pit needed a time out. After a breather, the set continued with four "space" themed songs, including the excellent "Aurora" (streaming below). Following two encores, band and crowd were overtaken by exhaustion and exited the venue tired but satisfied with a show of immense entertainment value from both artist and fan.
I recorded this set from the center of the balcony with the four microphone rig. The sound quality is quite excellent. Enjoy!
Stream "Aurora":
[audio:http://www.nyctaper.com/A6001Aguchi1120/15.%20Aurora.mp3]
Direct download of complete show in MP3 files (HERE)
Download the Complete show in FLAC [HERE].
Anamanaguchi
2011-07-22
Music Hall of Williamsburg
Brooklyn, NY USA
Four-Track Digital Master Recording
Recorded from Center Balcony Rail
Neumann KM-150s + DPA 4021's > Edirol R-44 (Oade Concert Mod) > 2x 24bit 48kHz wav files > Soundforge (level adjustments, mixdown, set fades) > CDWave 1.95 (tracking) > Flac Frontend (level 7, align sector boundaries) > flac
Recorded and Produced
by nyctaper
2011-07-24
Setlist:
[Total Time 1:04:12]
01 Mess
02 Densmore
03 My Skateboard Will Go On
04 [banter]
05 Penpal
06 Snow
07 UNME
08 Stolen Car Babe Highway Tokyo Drift
09 Airbrushed
10 Blackout City
11 [banter2]
12 Space Wax America
13 Helix Nebula
14 [banter2]
15 Aurora
16 [encore break]
17 Don't Save Us From The Flames [M83]
18 Mermaid
If you email nyctaper for access to this recording we expect that you will PLEASE SUPPORT Anamanaguchi, visit their website, and purchase their official releases at the Store at their website [HERE].