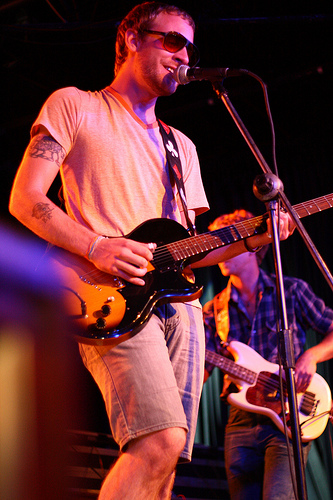 [photo courtesy of Niki Leigh Budnick]
We have always personally liked Deer Tick, all the way back to meeting John McCauley for the first time in early 2008. He seemed genuine and the rootsy nature of the band's music reflected that sincerity. As Deer Tick has grown in stature and size, its been easy to root for them. So when we were contacted by the Tommy Brull Foundation about recording their charity concert on Long Island, it came as no surprise the Deer Tick had agreed to headline the show. The Foundation was organized in 2008 to celebrate the life of Tommy who passed away at the age of 23, and it supports a variety of causes in his memory that benefit disabled children. On Wednesday at Mulcahy's in Wantagh, Deer Tick truly gave it their all for the cause, as they performed a non-stop set that spanned two hours and contained thirty songs. The set culled tracks from all three of their releases, and also featured five new songs that will appear on an album to be released in October. We are streaming one of the stronger new tracks "Funny Word". The band also let it all hang out and played a bunch of eclectic covers, including the Replacements song we posted on Friday.
Please support the Tommy Brull Foundation and the important work they do, and donate to the Foundation [HERE].
I recorded this set with a very well-balanced soundboard feed mixed with the DPA cardioid microphones placed at the center of the room. The sound quality is superb. Enjoy!
Stream "Funny Word":
[audio:http://www.nyctaper.com/D4545DeerTick3030/18.%20Funny%20Word.mp3]
Direct download of complete show in MP3 files (HERE)
Download the Complete show in FLAC [HERE].
Deer Tick
2011-08-10
Mulcahy's
Wantagh, NY USA
Tommy Brull Foundation Benefit Concert
Digital Master Recording
Soundboard + Audience Matrix
Soundboard + DPA 4021s > Edirol R-44 (Oade Concert Mod) > 2x 16bit 44.1kHz wav files > Soundforge (level adjustments, mixdown, set fades) > CDWave 1.95 (tracking) > Flac Frontend (level 7, align sector boundaries) > flac
Recorded and Produced by nyctaper
2011-08-13
Setlist:
[Total Time 1:57:59]
01 The Bump
02 Easy
03 Baltimore Blues No 1
04 Ashamed
05 Maybelline [Chuck Berry]
06 Main Street
07 [banter]
08 Little White Lies
09 Walkin Out That Door
10 [banter – Zep tease]
11 Choir Of Angels
12 When She Comes Home
13 Something to Brag About
14 Smith Hill
15 Standing at The Threshold
16 Waitress In The Sky [Replacements]
17 Spend the Night
18 Funny Word
19 Now Its Your Turn
20 [banter – Beatles tease]
21 Houston TX
22 20 Miles
23 Christ Jesus
24 Holy Shit Its Christmas
25 Serve The Servants [Nirvana]
26 Blue Moon (instrumental) [Rogers/Hammerstein]
27 La Bamba [trad arr Valens]
28 These Old Shoes
29 Not So Dense
30 [banter – play for charity]
31 Dirty Dishes
32 Bring It On Home to Me [Sam Cooke]
33 Jam
34 Tequila [The Champs]
35 Bring Me My Shotgun [Lightning Hopkins]
If you download this recording from NYCTaper, we expect that you will PLEASE SUPPORT The Tommy Brull Foundation and DONATE to the Foundation [HERE].

If you download this recording from NYCTaper, we expect that you will PLEASE SUPPORT Deer Tick, visit their website, and purchase their official releases from the Partisan Records Store [HERE].