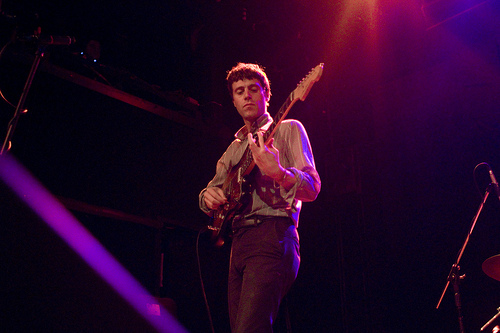 [photo by Maryanne Ventrice]
One of the real joys of seeing live shows is seeing an opening band that just blows you away. That was the case with this opening set from White Fence on a stacked Bowery Ballroom bill led by NYCTaper favorites Woods. White Fence's records are the solo effort Tim Presley, who also does time in the Strange Boys and Darker My Love, so for this show his backing band consisted of Nick Murray on Drums, and two members of Woods (Jarvis and Kevin), who handled Presley's material as capably as if it were their own. Presley brings a Dylanesque vocal turn to his garage-psych songs, but the laid-back vibe of the songs doesn't mean the playing isn't also top notch, particularly Presley's guitar work. The band's entire set brought the rapidly-packing room to peak energy level, climaxing with jammed-out version of "Sticky Fruitman Has Faith" that was worthy of the night's headliner in its ambitious scope. Whatever Presley's other commitments musically, I hope he makes this project a priority, as White Fence is a can't-miss band on any bill they're on.
We recorded this set in the same manner as the Woods set, and the results are similarly outstanding. Enjoy!
Stream "The Love Between":
[audio:http://www.nyctaper.com/W0813WhiteFence0211/03 The Love Between.mp3]
Stream "Sticky Fruitman Has Faith":
[audio:http://www.nyctaper.com/W0813WhiteFence0211/15 Sticky Fruitman Has Faith.mp3]
Direct download of MP3 files [HERE]
Download the Complete show in FLAC [HERE].
Follow acidjack on twitter
White Fence
2011-08-13
Bowery Ballroom
New York, NY USA
6-Channel Multitrack Digital Master Recording
Recorded by nyctaper and acidjack
Produced by acidjack
Soundboard + Neumann KM150 + DPA 4021>Sound Devices USBpre2 >> Tascam DR680>6x24bit/48kHz WAV>Audition (mixdown, EQ)>Audacity (tracking, set fades, amplify and balance)>FLAC ( level 8 )
Tracks
01 Mr. Adams>
02 Who Feels Right
03 The Love Between
04 Baxter Corner
05 [banter]
06 Be Right Too
07 When There Is No Crowd
08 Growing Faith
09 Enthusiasm
10 Harness
11 Lillian (Won't You Play Drums?)
12 Get That Heart
13 [banter]
14 Sara Snow
15 Sticky Fruitman Has Faith
If you enjoyed this recording, PLEASE SUPPORT White Fence, visit his MySpace page, and purchase his latest record Is Growing Faith directly from Woodsist records [HERE]