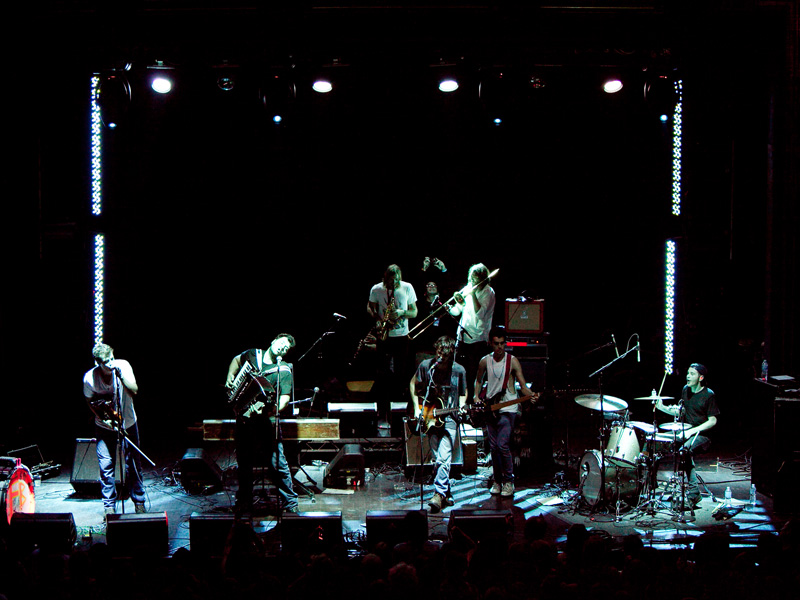 [photo courtesy of JC McIlwaine and Bowery Houselist]
When we recorded The Felice Brothers at the Bell House in May, acidjack noted that the band's new album Celebration, Florida represented a stylistic advance and a more varied mature approach to the americana genre that the band had perfected over their first seven albums. Four months later, The Felice Brothers tour on the album returned to NYC, this time at the more spacious Webster Hall. While the Celebration material dominated the set, this was truly a show for the fans as the group featured some rare numbers and a very appropriate cover. Springsteen's "Darkness" was a celebratory version, and as the Boss's fans are often exuberant towards their hero, The Felice Brothers fans at Webster Hall were equally voracious. The crowd-participation number "Whiskey in My Whiskey" is a good barometer of the audience's involvement at any particular Felice show, and this crowd was up for the challenge. We are streaming the excellent version of "Whiskey" below. The Felice Brothers extensive tour continues throughout the US this Fall before they head over to Europe in December.
We recorded this set with the Neumann microphones mounted inside the soundboard booth front and center of the balcony. The microphones were mixed with a well-balanced soundboard feed. There are instances in the recording of digital interface interference, which I believe was from the violin's DI and also some interference in the vocal microphone. These problems are intermittent and should not impede listening enjoyment of a superb performance.
Stream "Whiskey in My Whiskey":
[audio:http://www.nyctaper.com/F1805FeliceBrothers0211/15.%20Whiskey%20in%20My%20Whiskey.mp3]
Direct download of complete show in MP3 files (HERE)
Download the Complete show in FLAC [HERE].
Note: All of the material on this site is offered with artist permission, free to fans, at our expense. The only thing we ask is that you download the material directly from this site, rather than re-posting the direct links or the files on other sites without our permission. Please respect our request.
Felice Brothers
2011-09-29
Webster Hall
New York, NY USA
Digital Master Recording
Soundboard + Audience Matrix
Soundboard + Neumann KM-150s > Edirol R-44 (Oade Concert Mod) > 2x 24bit 48kHz wav files > Soundforge (level adjustments, mixdown, downsample set fades) > CDWave 1.95 (tracking) > Flac Frontend (level 7, align sector boundaries) > flac
Recorded and Produced
by nyctaper and acidjack
2011-10-02
Setlist:
[Total Time 1:41:51]
01 Honda Civic
02 Fire at the Pageant
03 Murder by Mistletoe
04 Back in the Dancehalls
05 Endless Night
06 Ponzi
07 Take This Bread
08 Refrain
09 White Limousine
10 Cus's Catskill Gym
11 The Big Surprise
12 [banter]
13 Run Chicken Run
14 Love Me Tenderly
15 Whiskey in My Whiskey
16 [crowd]
17 Frankie's Gun
18 Greatest Show on Earth
19 Saint Stephen's End
20 River Jordan
21 [encore break]
22 Darkness on the Edge of Town [Springsteen]
23 Helen Fry
If you download this recording from NYCTaper, we expect that you will PLEASE SUPPORT The Felice Brothers, visit their website, and purchase their official releases directly from their web store [HERE]