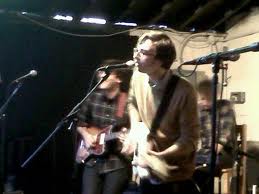 [blurry blackberry photo by nyctaper]
The new album from Real Estate is officially released today. Days is the first album for the band on their new label Domino — and this seems to be the perfect match between a label for music aficionados and a band who have melded a plethora of musical influences into a deceptively simple laid-back suburban indie sound. At the Bohemian Beer Hall in Astoria on Saturday, Real Estate began their CD release show by performing Days straight through, as they had done at 285 Kent in June. But midway through the set, at the conclusion of "Side A", the band really threw us a curveball — a cover of Felt's "Sunlight Bathed The Golden Glow" (streaming below) that was as faithful to the original as much as it sounded like a Real Estate song. Matt Mondanile spent some time in Europe, and seems to have developed a taste for eighties Brit alterna-pop. After the show, we spoke to Matt and their Domino rep and learned the genesis of this cover. Felt's Lawrence had programmed a show on Domino radio that Matt had heard and spurred his interest. The show continued with "Side B", which concluded with a jammed-out seven minute version of the album's closing track, "All The Same" (also streaming below). Real Estate finished the show with an extended take on "Beach Comber" that also stretched to seven minutes. The band flew overseas to begin a European tour before they return to the US in November. Real Estate will play Bowery Ballroom on November 23.
I recorded this set with the Neumann microphones mounted at the soundboard about 30 feet from the stage and mixed with a soundboard feed. The show presented some challenges, as the packed crowd muffled the PA speakers that are inexplicably placed at ground level at the venue. Ultimately, some EQ and a proper post-production mix of sources has resulted in an excellent recording. Enjoy!
Stream "Sunlight Bathed The Golden Glow" [Felt cover]:
[audio:http://www.nyctaper.com/R2410RealEstate9229/07.%20Sunlight%20Bathed%20The%20Golden%20Glow%20%5bFelt%20cover%5d.mp3]
Stream "All The Same":
[audio:http://www.nyctaper.com/R2410RealEstate9229/14.%20All%20The%20Same.mp3]
Direct download of complete show in MP3 files (HERE)
Download the Complete show in FLAC [HERE].
Note: All of the material on this site is offered with artist permission, free to fans, at our expense. The only thing we ask is that you download the material directly from this site, rather than re-posting the direct links or the files on other sites without our permission. Please respect our request.
Real Estate
2011-10-15
Bohemian Beer Hall
Queens, NY USA
Digital Master Recording
Soundboard + Audience Matrix
Soundboard + Neumann KM-150s > Edirol R-44 (Oade Concert Mod) > 2x 24bit 48kHz wav files > Soundforge (level adjustments, mixdown, downsample set fades) > CDWave 1.95 (tracking) > Flac Frontend (level 7, align sector boundaries) > flac
Recorded and Produced
by nyctaper
2011-10-16
Setlist:
[Total Time 1:04:48]
01 Easy
02 Green Aisles
03 It's Real
04 [banter – kick drum]
05 Kinder Blumen
06 Out of Tune
07 Sunlight Bathed The Golden Glow [Felt cover]
08 [crowd]
09 Municipality
10 Wonder Years
11 [banter – record release]
12 Three Blocks
13 Younger Than Yesterday
14 All The Same
15 [banter – setlist]
16 Fake Blues
17 [banter – thanks]
18 Beach Comber
If you download this recording from NYCTaper, we expect that you will PLEASE SUPPORT Real Estate, visit their website, and purchase Days from the Domino Records website [HERE].