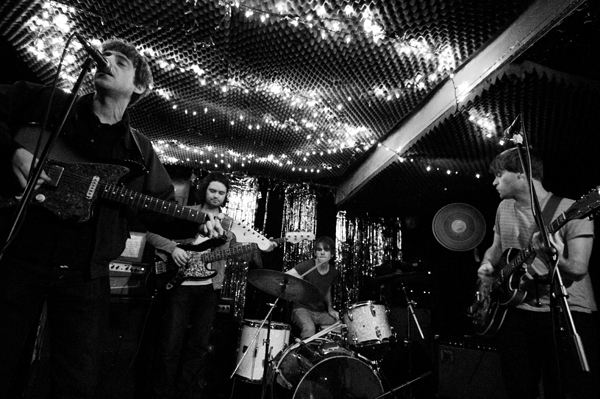 [photos by Amanda Hatfield]
White Fence played one of the most impressive shows we've seen in all of 2011 — at Bowery in August. So, it was only natural that we would invite them to play our annual CMJ show at Cake Shop, and we were thrilled that they could join the bill. After a long drive from Connecticut where they had played the previous night (see here), the band arrived for their 3:15 pm set time a little weary but ready to go. Tim Presley noted the weirdness of the early set time before immediately launching into the opening two-fer "Mr. Adams" and "Who Feels Right". Thereafter the gathering crowd was transfixed by some of the tightest and most faithful 1966-era psych-garage rock we have heard in ages. From the balcony at Bowery the band was remarkable, but from a few feet away at Cake Shop it was truly sublime to see Tim and Jarvis trade guitar licks throughout the nine-minute version of "Baxter Corner". The only disappointment was the brevity of the set that was dictated by our tight schedule. Before departing, the band took requests and then launched into a fiery "Get That Heart" that we're streaming below. White Fence is truly one of the most compelling bands we've seen in quite some time and we expect that the memory of their set at the NYCTaper CMJ show will be a musical highlight we won't soon forgot.
I recorded all eight sets from our CMJ show in the same manner. The DPA 4021 microphones were attached to a threaded mount on the low ceiling five feet from the stage. We then mixed a soundboard feed, capturing the vocals missing from the "on-stage" rig. The results are indeed superb. Enjoy!
All sets from this show will be posted over the next week.
A large portion of this show was recorded on video by our friends at Bleary Eyed Brooklyn, and we expect to be embedding some of that video synchronized with our audio soon.
The entire show was photographed by several of NYC's top concert photographers (including Amanda Hatfield's work in this post), whose photos have graced these pages in the past. We expect to have more excellent photos in the coming days.
Stream "Get That Heart":
[audio:http://www.nyctaper.com/W0813WhiteFence0211/08.%20Get%20That%20Heart.mp3]
Direct download of complete show in MP3 files (HERE)
Download the Complete show in FLAC [HERE].
Note: All of the material on this site is offered with artist permission, free to fans, at our expense. The only thing we ask is that you download the material directly from this site, rather than re-posting the direct links or the files on other sites without our permission. Please respect our request.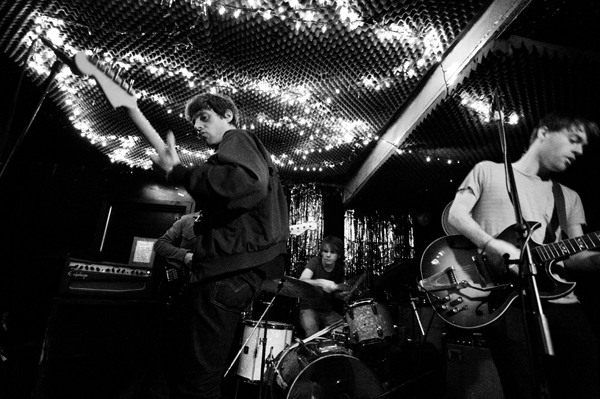 White Fence
2011-10-20
Cake Shop
New York, NY USA
Digital Master Recording
Soundboard + Audience Matrix
Soundboard + DPA 4021s > Edirol R-44 (Oade Concert Mod) > 24bit 48kHz wav file > Soundforge (level adjustments, set fades, downsample) > CDWave 1.95 (tracking) > Flac Frontend (level 7, align sector boundaries) > flac
Recorded and Produced
by nyctaper
2011-10-22
Setlist:
[Total Time 24:36]
01 Mr. Adams
02 Who Feels Right
03 The Love Between
04 Baxter Corner
05 Growing Faith
06 [new song]
07 [banter]
08 Get That Heart
If you enjoyed this recording, PLEASE SUPPORT White Fence, visit the White Fence blog, the White Fence Facebook page, and purchase his latest record Is Growing Faith directly from Woodsist records [HERE].