[Photos courtesy of Amanda M. Hatfield]
We were thrilled that recent site favorites Mr. Dream were able to headline our CMJ Day Party this year at Cake Shop. With two Harvard-educated former music journalists in their lineup, Mr. Dream's SST-and-Pixies-influenced sound reflects the bandmembers' excellent taste in heavy but melodic music. Their live approach takes a similar long view of what makes a modern punk show successful. Their music is unrelenting and ballsy, but it's also well-played, and it has a sense of humor. The band has garnered a ton of critical notice for their first full-length, Trash Hit, which has led to gigs with luminaries like LCD Soundsystem and Sleigh Bells. Not content to rest on their Trash Hit accolades, the band has continued working on new material that has slowly trickled out at recent live shows. This set boasted three of those new numbers in a row: "Moneybags" (which we saw debut at the band's Northside Festival show), "What A Mess", and "Palace Complex". They rounded out this six-song set with three of their other can't-miss numbers, closing out with the tongue-in-cheek "Learn the Language". We couldn't have been happier with Mr. Dream to send our crowd off to start the rest of their CMJ night.
This set was recorded in the same manner as the other CMJ 2011 sets, and is similarly outstanding. Enjoy!
Stream "What A Mess"
[audio:http://www.nyctaper.com/M3400MrDream2011/03 What A Mess.mp3]
Stream "Learn the Language"
[audio:http://www.nyctaper.com/M3400MrDream2011/07 Learn the Language.mp3]
Direct download of MP3 files [HERE] | Direct Download of the FLAC files [HERE]
Follow acidjack on twitter
Note: All of the material on this site is offered with artist permission, free to fans, at our expense. The only thing we ask is that you download the material directly from this site, rather than re-posting the direct links or the files on other sites without our permission. Please respect our request.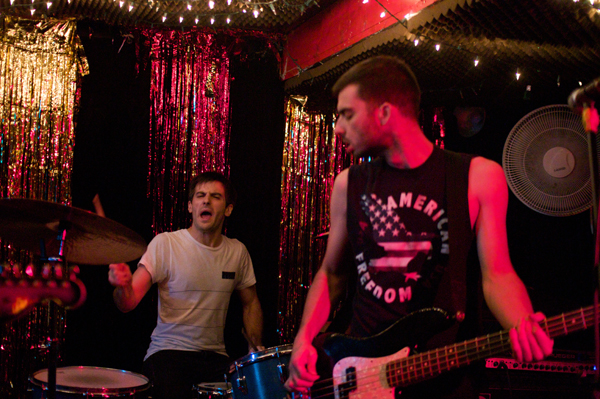 Mr. Dream
2011-10-21
NYCTaper CMJ Day Party
Cake Shop
New York, NY USA
Digital Master Recording
Recorded by nyctaper
Produced by acidjack
DPA 4021+Soundboard>Edirol R-44 [Oade Concert Mod]>2x24bit/48kHz WAV>Audacity (mixdown, set fades, tracking, light EQ, downsample)>FLAC ( level 8 )
Tracks
01 Trash Hit
02 Moneybags
03 What A Mess
04 Palace Complex
05 [banter]
06 Winners
07 Learn the Language
If you download this recording from NYCTaper, we expect that you will PLEASE SUPPORT Mr. Dream, visit their MySpace page, and purchase Trash Hit from Amazon or your favorite record store.