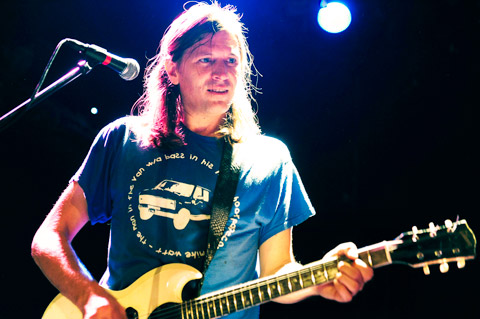 [Photos courtesy of Dana (distortion) Yavin.  See more of her excellent work HERE.]
Even though I've been a fan of The Lemonheads output for many years, I hadn't seen frontman Evan Dando or any incarnations of the band play in a long time.  After becoming alternative rock darlings in the early 90's, they went on hiatus in the latter part of the decade, reformed in 2005 and have released two albums since then.  Billed that they were going to play 'It's a Shame About Ray', arguably their most popular disc, in its entirety, I still approached this concert with some trepidation.  Depending on whom you heard it from, initial reports of stops on this tour ranged from "good" to "disastrous" and the masses hadn't been too kind about the previous night's performance at Bowery Ballroom.  Evan and company took the stage and, after a minute or two of sorting things out, promptly launched into a note-perfect "Rockin Stroll", the first track off of 'Ray'.  Aside from a few false starts which just added to the fun, and the vocal missteps of "Mrs. Robinson" (which didn't even appear on original pressings and was sung by a member of the audience), the album's run-through went pretty well.  In fact, the whole evening was highly enjoyable.  Appearing to fall into a comfortable groove, Evan performed an engaging solo acoustic set, fielded requests from the crowd, pulled opening band The Shining Twins onstage to cover one of their songs, and played some great material spanning most of the band's career, including deep cut "Stove".  For an enthusiast like myself, not only was it a very good night but I believe The Lemonheads proved that they can still shine.
Utilizing a mobile rig, we were able to secure an ideal spot on the venue's main floor.  The result is great clarity, a lovely capture of the interplay between the band and crowd, and an overall very good recording.  Enjoy!
Stream "Hannah & Gabi":
[audio:http://www.nyctaper.com/L1111Lemonheads0002/The_Lemonheads_-_Hannah_&_Gabi.mp3]
Stream "No Backbone":
[audio:http://www.nyctaper.com/L1111Lemonheads0002/The_Lemonheads_-_No_Backbone.mp3]
Direct download of the complete show in MP3 [HERE]
Download the Complete show in FLAC [HERE].
Note: All of the material on this site is offered with artist permission, free to fans, at our expense.  The only thing we ask is that you download the material directly from this site, rather than re-posting the direct links or the files on other sites without our permission.  Please respect our request.
The Lemonheads
Monday, October 10, 2011
Bowery Ballroom
New York, NY, USA
Source: AUD > SP-CMC-2 (AT831's) > SP-SPSB-8 > Edirol R-09 (WAV @ 24-bit/48kHz)
Lineage: R-09 > USB > PC > Adobe Audition (mixdown, adjust levels, downsample, dither, tracking) > WAV (16-bit/44.1kHz) > Trader's Little Helper (check/fix SBE's, FLAC) > FLAC Level 8
Recorded and produced by: Johnny Fried Chicken Boy
SETLIST:
[Total time: 1:39:19]
01. intro
02. Rockin Stroll
03. Confetti
04. It's a Shame About Ray
05. Rudderless
06. My Drug Buddy
07. banter
08. The Turnpike Down
09. Bit Part
10. Alison's Starting to Happen
11. Hannah & Gabi
12. Ceiling Fan in My Spoon
13. banter
14. Kitchen
15. banter
16. Frank Mills  [James Rado, Gerome Ragni, Galt MacDermot]
17. banter
18. Mrs. Robinson  [Paul Simon]
19. Deep Bottom Cove
20. Divan
21. Favorite T
22. All My Life
23. Frying Pan  [Victoria Williams]
24. Rain  [Blake Babies]
25. Tenderfoot
26. Being Around
27. banter
28. The Outdoor Type  [Smudge]
29. It's About Time
30. banter
31. Greasy Bear  [The Shining Twins]
32. banter
33. Hospital
34. Down About It
35. The Great Big No
36. Style
37. Big Gay Heart
38. No Backbone
39. Stove
40. Into Your Arms  [Robyn St. Clare]
If you download this recording, we expect that you will PLEASE SUPPORT The Lemonheads, visit their website, visit their Facebook and MySpace pages, and purchase their official releases and merchandise [HERE] and [HERE].