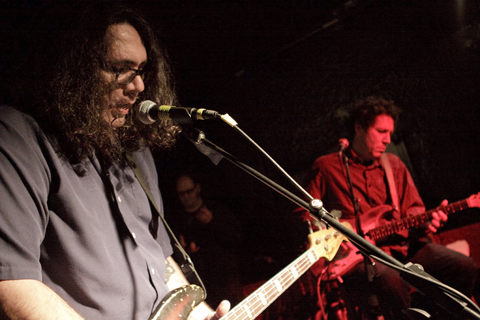 [photo courtesy of Bryan Bruchman and brooklynvegan]
A close brush with mortality often offers a rare opportunity for perspective and retrospection. It was twenty-seven years ago that the first Yo La Tengo show took place at Maxwell's, and Dave Rick was the bass player on that night. For Night 4 of Hanukkah 2011, Dave joined YLT for the entire set. As a result, the setlist dug all the way back to the early YLT, including their very first release, the 7″ single "The River of Water", along with deep track "Serpentine" from 1987's New Wave Hot Dogs. This show's three-song climax also included a terrific version of a rare performance of "Some Kinda Fatigue" that we're streaming below. And in an apparent acknowledgement of the theme for the night, the set's finale was an extended and heart-wrenching version of "More Stars Than There Are In Heaven" that highlighted the shortness of life. On this particular night, we certainly enjoyed it while we can.
I recorded this set in the same manner as the previous night and the sound quality is superb. Enjoy!
Stream "Some Kinda Fatigue":
[audio:http://www.nyctaper.com/Y6644YLT9879/15.%20Some%20Kinda%20Fatigue.mp3]
Stream "More Stars Than There Are In Heaven":
[audio:http://www.nyctaper.com/Y6644YLT9879/17.%20More%20Stars%20Than%20There%20Are%20In%20Heaven.mp3]
Direct download of complete show in MP3 files (HERE)
Download the Complete show in FLAC [HERE].
Note: All of the material on this site is offered with artist permission, free to fans, at our expense. The only thing we ask is that you download the material directly from this site, rather than re-posting the direct links or the files on other sites without our permission. Please respect our request.
Yo La Tengo
2011-12-23
Hanukkah Night 4
Maxwell's
Hoboken, NJ USA
Digital Master Recording
Soundboard + Audience Matrix
Soundboard + Neumann KM-150s > Edirol R-44 (Oade Concert Mod) > 2 x 24bit 48kHz wav files > Soundforge (level adjustments, set fades, downsample) > CDWave 1.95 (tracking) > TLH > flac (320 MP3 and Tagging via Foobar)
Recorded and Produced
by nyctaper
2011-12-25
Setlist:
[Total Time 1:29:03]
01 Detouring America With Horns
02 Nothing To Hide
03 Avalon or Someone Very Similar
04 Porpoise Song [Carole King]
05 The River of Water
06 Serpentine [Phil Milstein]
07 Ben Wa Baby [Phil Milstein]
08 Don't Have To Be So Sad
09 [banter – thanks]
10 Saturday
11 [banter – mix cd]
12 Coloured [Chris Knox]
13 Black Flowers
14 Today Is The Day
15 Some Kinda Fatigue
16 Tom Courtenay
17 More Stars Than There Are In Heaven
18 [encore break]
19 You Don't Love Me Yet [Roky Erickson]
20 This Ain't The Summer of Love [Blue Oyster Cult]
21 Crush [Chris Knox]
(Thanks Jesse for the setlist)
If you download this recording from NYCTaper, we expect that you will PLEASE SUPPORT Yo La Tengo, visit their website, and purchase their official releases from the store at their website [HERE].