[Photos courtesy of Matthew Eisman.  See more of his excellent work HERE.]
I've always been a rock music guy.¬† And if it can rupture eardrums and upset my equilibrium just by listening to it, I'm usually in my happy place.¬† That's why I was surprised to find Low Roar's debut album with its haunting melodies so intriguing.¬† Having already drawn comparisons to the mellower offerings of Radiohead, Jeff Buckley and Sigur R√≥s in reviews, I also heard flashes of Brian Eno in that first listen.¬† The band's backstory is no less interesting.¬† Formerly of Oakland's Audrye Sessions, frontman and songwriter Ryan Karazija pulled up stakes in San Francisco and moved to Iceland where he began this project and recorded the tracks.¬† Much as I really liked it, I was left wondering how well this music would translate to a concert setting.¬† My concerns were unfounded as the songs, beautiful as they are on record, were stunningly gorgeous when played live.¬† Joined on stage by J√ļl√≠us Bj√∂rgvinsson, Ryan's magnificent hymn-like vocals and the duo's brilliantly understated musicianship fleshed even more nuance out of the studio material and expanded on it.¬† Suffice to say, I'm looking forward to the next chance I get to see Low Roar.¬† If their music is to your tastes and you have an opportunity to catch them, I suggest you run, don't walk, to go see them, too.
Recording in small clubs always has its challenges and this night at Pianos was no exception: chatty patrons, an adjoining bar with its accompanying noise, and a feedback spike early in the set.  All that aside, venue engineer, Ofer, did a superb job in both his house mix and the soundboard feed he provided for us to blend with our microphones.  The resultant capture is excellent and we hope you like what you hear as much as we did.  Enjoy!
Special thanks to Low Roar and Bryan Vaughan at Indigenous Promotions for making this recording possible, and to the staff at Pianos for their courtesy and cooperation.
Stream "Just A Habit":
[audio:http://www.nyctaper.com/L9110LowRoar1022/Low_Roar_-_Just_A_Habit.mp3]
Direct download of the complete show in MP3 [HERE]
Download the Complete show in FLAC [HERE].
Note: All of the material on this site is offered with artist permission, free to fans, at our expense.  The only thing we ask is that you download the material directly from this site, rather than re-posting the direct links or the files on other sites without our permission.  Please respect our request.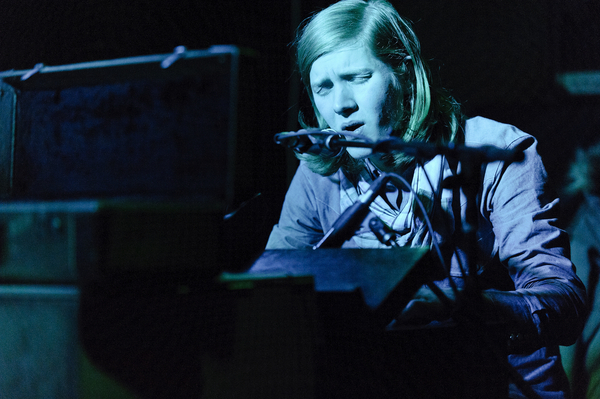 Low Roar
Thursday, January 19, 2012
Pianos
New York, NY, USA
Source: SBD + AKG C 414 B-XLS's > Edirol R-44 (WAV @ 24-bit/48kHz)
Lineage: R-44 > USB > PC > Adobe Audition (mixdown, adjust levels, downsample, dither, tracking) > WAV (16-bit/44.1kHz) > Trader's Little Helper (check/fix SBE's, FLAC) > FLAC Level 8
Pianos house engineer: Ofer Tiberin
Recorded and produced by: Johnny Fried Chicken Boy
SETLIST:
[Total time: 38:51]
01. Intro > Friends Make Garbage (Good Friends Take It Out) > Low Roar
02. Just A Habit
03. Give Up
04. Rolling Over
05. Help Me > Dalal√¶√įa
If you download this recording, we expect that you will PLEASE SUPPORT Low Roar and their related projects, visit their Facebook page, and purchase their official releases at the Tonequake Records shop [HERE], at iTunes or at Amazon.  And definitely go see their shows.