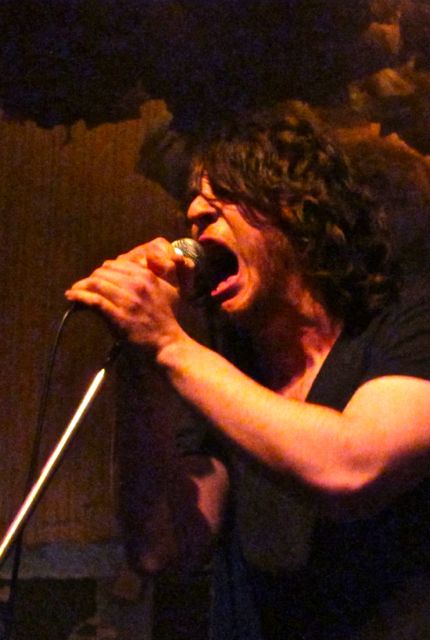 [Photos by acidjack]
In a north Brooklyn scene that has both thriving indie rock and metal scenes, Grandfather are one of the few bands that bridges that divide.  The band plays intelligent, aggressive hard rock (not quite metal) that capitalizes on the outstanding guitar work of Michael Kirsch and the focused, balls-out vocals of Josh Hoffman, already a consummate rock frontman even in his rookie years.  The closest reference point sound-wise for the band is probably the mighty Tool, but these guys clearly listened to plenty of Nirvana and other Seattle bands in their formative years as well.
Like many new bands, Grandfather raised the funds to record their first record, Why I'd Try, on Kickstarter, and they put the cash to good use by hiring the legendary (and legendarily curmudgeonly) engineer Steve Albini to lay down the record in old-school fashion direct to analog 2″ reels, with no digital bullshit in between.  For their trouble, they got a record that sounds beautiful – with a crisp, raw live-in-studio sound that captures the intensity of the band's sound at its absolute best.  More tellingly, they earned Albini's respect – difficult to come by for a man who has had few kind words for most of his peers.  Answering a GQ interviewer's question about "a young artist with integrity who inspires you", Albini said, in part:
I see little bits and pieces of behavior that are encouraging. There was a band that came into the studio a while back called Grandfather. They were an art rock band that organized the funding of their record through Kickstarter. They were really well rehearsed and came into the studio and knocked the record out in a couple of days. Because they didn't have a record label or any promotion schedule to adhere to, they were able to get their record manufactured and distributed within a couple of months. That's the kind of nimble, efficient behavior that was previously impossible when there was a corporate structure involved.
Grandfather took the stage this Wednesday night at Glasslands with a ferocity that should inspire any artist, starting with the two-minute banger "AWOL" from Why I'd Try before ripping into three brand-new tracks – "Greedy Eye", "Spun" and "Sorry" .  After a full-throttle rendition of "Tremors" – where bassist Tyler Krupsky shines in the extended intro – it was all new songs from there.  Anyone doubting the urgency of the band's live show by this point was eating their words or hitting the exits during the standout new track "Organ Thief," which Hoffman kicks off with a demonic, diabolical laugh with a headbanging riff behind it.   It's not hard to see, in a band that plays a Glasslands show with the same intensity as they might Madison Square Garden, to see what impressed Steve Albini.  "Integrity" certainly comes to mind with this band, but equally importantly, so does "passion".
I recorded this set with AKG large-diaphragm microphones set to "wide cardiod" for a full-range, open sound.  I did record a stereo soundboard feed as well, but due to an issue with the club's equipment, that mix consisted mostly of vocals, which were mixed in here minimally for clarity.  Enjoy!
Stream "Organ Thief"
[audio:http://www.nyctaper.com/G2801Grandfather2110/08 Organ Thief.mp3]
Stream "Tremors"
[audio:http://www.nyctaper.com/G2801Grandfather2110/06 Tremors.mp3]
Direct download of MP3 files [HERE] |  Direct Download of the FLAC files [HERE]
Follow acidjack on twitter
Note: All of the material on this site is offered with artist permission, free to fans, at our expense. The only thing we ask is that you download the material directly from this site, rather than re-posting the direct links or the files on other sites without our permission. Please respect our request.
Grandfather
2012-02-01
Glasslands
Brooklyn, NY USA
Recorded and produced by acidjack
exclusively for nyctaper.com
AKG C 414 B-XLS (wide cardiod, DFC) + Soundboard (vocals only)>Edirol R-44 [Oade Concert Mod] (24/48)>2x24bit/48kHz WAV>Audition (mixdown, EQ, mastering, downsample to 44.1kHz)>Audacity (tracking, amplify and balance, set fades, downsample to 16bit)>FLAC ( level 8 )
Tracks
01 AWOL
02 [tuning/banter]
03 Greedy Eye
04 Spun
05 Sorry
06 Tremors
07 Wishes
08 Organ Thief
09 Disorder
If you enjoyed this recording, please support Grandfather, visit their website, like them on Facebook, download Why I'd Try on bandcamp (for "pay what you will") or better yet, buy it on CD or vinyl from that site to hear what a properly-mixed rock record should sound like.