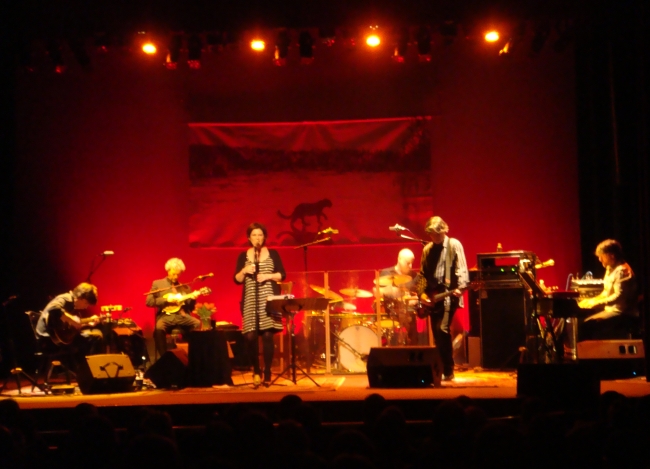 [Photo by Johnny]
I was in college when the landmark 'The Trinity Session' album by Cowboy Junkies was released.  Garnering attention with their unique cover of Lou Reed's "Sweet Jane", I think it's safe to say that every guy on my dorm floor developed a crush on frontwoman Margo Timmins.  Rather than rest on the laurels of that critically lauded disc, this stellar band has continually put out terrific music over the past few decades, bucking trends and cultivating a distinct style on their own terms.  Their most recent project, the excellent Nomad Series, continues in that ambitious vein with them having recorded 4 separate albums in 18 months.
This particular night was the last stop on the tour and Cowboy Junkies seemed intent on making it a memorable one [check out guitarist Michael Timmins' entry from his tour diary HERE].  In the lovely Westhampton Beach Performing Arts Center the capacity crowd was treated to two sets of music.  With the first being tracks from the Nomad Series and the second consisting of material spanning the group's career, there were amazing performances in each capped with an intense rendition of (fellow Canadian) Neil Young's "Don't Let It Bring You Down".  Overall, an outstanding evening.
Thanks to the very helpful and accommodating crew and venue staff, we were able to set up in a nearly ideal location in this wonderful sounding room.  We were also blessed with incredibly polite and appreciative attendees.  It was truly a pleasure to sit comfortably in a beautiful theater on a Saturday night and not have the music compete with people who would rather talk loudly than enjoy the songs.  Combine all these factors and our resultant recording is superb.  Enjoy!
Special thanks to Cowboy Junkies, Candace Horgan and Jared Herman for making this recording possible, and to Frank, Eric, Greg and the staff at the Westhampton Beach Performing Arts Center for their courtesy and cooperation.
Stream "Late Night Radio": [audio:http://www.nyctaper.com/C3100CowboyJunkies0122/Cowboy_Junkies_-_Late_Night_Radio.mp3]
Stream "200 More Miles": [audio:http://www.nyctaper.com/C3100CowboyJunkies0122/Cowboy_Junkies_-_200_More_Miles.mp3]
Download the FLAC/MP3 files and stream this entire show on the Live Music Archive [HERE]
Follow Johnny Fried Chicken Boy on Twitter
Note: All of the material on this site is offered with artist permission, free to fans, at our expense.  The only thing we ask is that you download the material directly from this site, rather than re-posting the direct links or the files on other sites without our permission.  Please respect our request.
Cowboy Junkies
Saturday, March 10, 2012
Westhampton Beach Performing Arts Center
Westhampton Beach, NY, USA
Source: AUD > AKG C 414 B-XLS's > Edirol R-44 (WAV @ 24-bit/48kHz)
Lineage: R-44 > USB > PC > Adobe Audition (mixdown, downsample, dither, tracking) > WAV (16-bit/44.1kHz) > TLH (check/fix SBE's, FLAC conversion) > FLAC ( level 8 )
Recorded and produced by: Johnny Fried Chicken Boy
1st SET:
[Total time: 52:55]
01. Sing In My Meadow
02. [banter 1]
03. Wrong Piano  [Vic Chesnutt]
04. Square Room  [Vic Chesnutt]
05. 3rd Crusade
06. Late Night Radio
07. A Few Bags of Grain
08. Stranger Here
09. [banter 2]
10. Damaged From The Start
11. [banter 3]
12. Angels In The Wilderness
2nd SET:
[Total time: 1:20:46]
13. Sweet Jane  [Lou Reed]
14. 200 More Miles
15. A Common Disaster
16. Working on a Building
17. [banter 4]
18. A Horse In The Country
19. Angel Mine
20. Cold Tea Blues
21. Crescent Moon
22. Hunted
23. [banter 5 / introductions]
24. Lost My Driving Wheel  [David Wiffen]
25. [encore break]
26. Blue Moon Revisited (Song for Elvis)  [Margo Timmins, Michael Timmins, Richard Rodgers, Lorenz Hart]
27. Don't Let It Bring You Down  [Neil Young]
If you download this recording, we expect that you will PLEASE SUPPORT Cowboy Junkies, visit their website, visit their Facebook and MySpace pages, and purchase their official releases and merchandise [HERE].