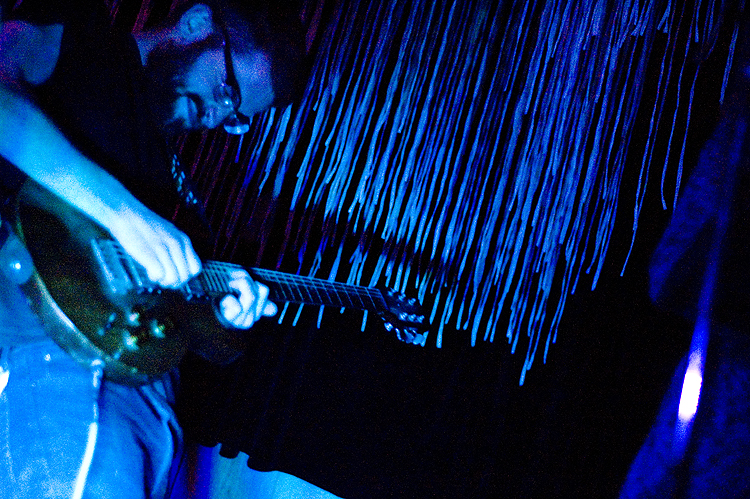 [Photos courtesy of Jonny Leather and Mecca Lecca Recording Co.]
Our friend and longtime music blogger Jonny Leather has managed to achieve a dream that few music fans do – creating his own label, Mecca Lecca Recording Co., to release the music of the bands he loves. In a fairly short period of time, he has built up a strong roster of acts like Unicycle Loves You (a favorite of this site), Christopher Paul Stelling, and Ghastly City Sleep, among others.  But my favorite of all of them, and a band I had been wanting to see ever since I bought their first record on bandcamp, is Howth.  This recent show at Cameo Gallery in Brooklyn showcased the young band at the top of their game as they shared material from their forthcoming album (and Kickstarter success story) Newkirk.
The band's bio styles their sound as "psychedelic folk", but their rich, texturally varied sound belies that simple label.  In addition to their folk influences, I heard elements of the epic sweep of The Antlers in some of their songs like the set closer "Keep Me Away From the Mirror"; the off-kilter rock of Radiohead and Modest Mouse in a few others; and even a few moments when the vocal harmonies reminded me of doo-wop and 60s pop. Howth is a versatile, dynamic act that clearly has a lot of gas left in the tank musically, and has already shown a lot of growth over just two releases. That said, there is no denying some of the earlier songs like "Idaho #1".  My favorite song of the set was probably "Only Right Turns" from Newkirk – the song has compelling guitar work, soaring vocals and a healthy dose of the loud/soft dynamic that a fan like me who grew up in the 90s is permanently addicted to. Even better, Jesse Newkirk of Steel Phantoms gave this version an extra-special touch.  Howth will release Newkirk on May 1st, followed by a record release show at Mercury Lounge.  I'd recommend putting both on your calendar.
I recorded this set with AKG 414 large-diaphragm mics that were specifically selected to accentuate the detail in Howth's rich sound, and a soundboard feed from the Cameo staff. This outstanding recording should serve as a worthy introduction to the band and their latest material.  Enjoy!
Special thanks to Howth, Jonny Leather and Mecca Lecca for inviting us to record the show, and my apologies for it taking me this long to actually see the band!
Stream "Only Right Turns"
[audio:http://www.nyctaper.com/H2930Howth0212/07 Only Right Turns.mp3]
Stream "Idaho #1"
[audio:http://www.nyctaper.com/H2930Howth0212/03 Idaho1.mp3]
Direct download of MP3 files [HERE] | Direct Download of FLAC files [HERE]
Follow acidjack on twitter
Note: All of the material on this site is offered with artist permission, free to fans, at our expense.  The only thing we ask is that you download the material directly from this site, rather than re-posting the direct links or the files on other sites without our permission.  Please respect our request.
Howth
2012-03-29
Cameo Gallery
Brooklyn, NY USA
Exclusive download hosted at nyctaper.com
Recorded and produced by acidjack
AKG C 414 B-XLS (cardiod, ORTF, DFC, FOB)>Sound Devices USBPre2 + Soundboard >> Edirol R-44 [Oade Concert Mod]>2x24bit/48kHz WAV>Audition CS 5.5 (mixdown, adjust levels)>Izotope Ozone 5 (effects, limiter)>Audacity 2.0 (tracking, set fades, downsample to 16/44.1)>FLAC Level 8
Tracks
01 Out in Eagan
02 Snow Bank
03 Idaho #1
04 Wind Blows Cold
05 David
06 [banter]
07 Only Right Turns
08 Needles and Pins*
09 Keep Me Away From the Mirror
*with Jesse Newkirk of Steel Phantoms
If you enjoyed this recording, PLEASE SUPPORT Howth, pre-order Newkirk on their bandcamp page, and check out their page and the other excellent roster of acts at Mecca Lecca Recording Co.