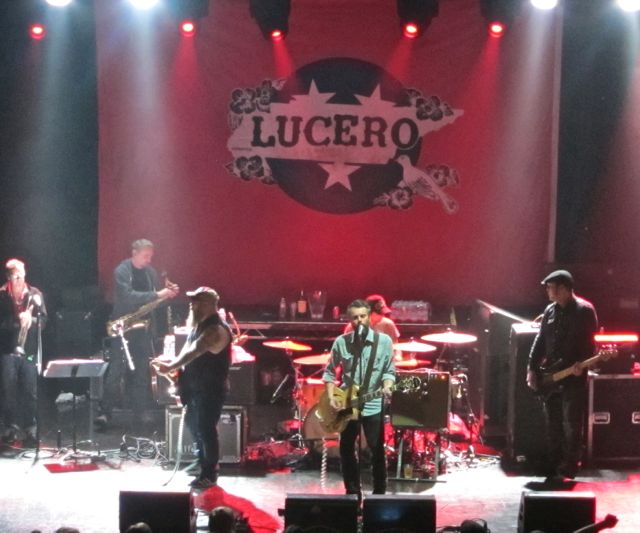 [Photos by acidjack and Johnny Fried Chicken Boy]
There are two main paths that bands take to success these days: There are the bands with instant buzz, who find themselves on the late night TV circuit and playing large venues instantly. (They tend to flame out quickly, too). Then there are the bands who earn it the hard way – playing 200-plus shows a year, gigging every goddamn festival and radio station and bar in every corner of the country, putting thousands of miles on a broke down van and doubly more miles on their livers and sanity, all for the love of music, sure, but also for a shot at success.
Success, for a rock band these days, is a bit redefined, but Lucero have achieved it, and they've achieved it the hard way. An unabashedly masculine band, whose hardscrabble tales ring with authenticity, Lucero sometimes seems to be of another era. It's hard to argue otherwise about a band that titles their current release (their eighth record, but first on ATO Records) Women and Work. After all, for the early 21st century American man, work is something he hasn't got, and women – well, they're too busy doing all the work.
But that's the beauty of Lucero – they remind you of better days, but they also remind you of the simple pleasures of the days you're in. The boys themselves always look like they're having fun. Frontman Ben Nichols' most frequently-uttered phrase between songs is "hell yeah!", and the band made quick work of a handle of Jameson onstage. Lucero's music, even when tackling sadder subjects, has good cheer to go with its honest grit. Today we are presenting two recordings  from Webster Hall – the first from October of 2009, the second from April 20 (yes, that date) of this year. These two shows are perhaps more telling in their similarities than in their differences; the band may have continued to expand their sound and personnel, but the core of their music is consistent and strong. Maybe there's a bit more gravel in Nichols' pipes, but that doesn't hurt a thing. And despite spending virtually the entire past decade on the road, they sound as fresh and hungry as ever. For example, with its early curfew, Webster Hall practically demands short sets – but Lucero played a two-hour set of nearly 30 songs. Nobody told these guys about lowering expectations.
The songs – well, there are those to talk about too. That word "honest" comes up again, when you think about a Memphis band whose sound pays homage to the country and blues and even R&B that fuel the town, but with a bit of a punk flavor thrown in. At the 4/20 show, the new songs were a blast; it's hard to argue with the rocker "I Can't Stand To Leave You" or the honky-tonk "Like Lightning". A stripped-down group of personnel played "The War", the World War II tale that could easily resonate with soldiers in Afghanistan and elsewhere today. And of course, Lucero played the favorites that the band is probably expected to play at every show, and why not? "Nights Like These" is one of those songs you never get tired of; same for the valedictory "Last Night In Town".
Of the October 2009 show, JFCB said:
Lucero made quite the impression on me when I first saw them in early 2009. After the release of the excellent '1372 Overton Park' album later that year, they embarked on a tour with fellow Memphis musician Amy LaVere and blues/rock duo Cedric Burnside & Lightnin' Malcolm. Billed as the "Ramblin' Roadshow and Memphis Revue", it was also the first time the group ever toured with a horn section to mirror the sounds on their recent disc. Being on the road with this handpicked crew must've had a positive influence as both the band and the particularly boisterous crowd on this Saturday night seemed to have a great time. While drinking and fielding song requests, Lucero played the majority of 'Overton Park' and dug out a number of older nuggets that had the party whooping and hollering for more.
We can keep spilling words about them, but really, all you need to know about Lucero is contained in their sendoff to us at the 4/20 show: "We appreciate each and every one of y'all making dreams come true. Dreams do come true!" A lot of things about rock music have changed in the fourteen years of Lucero's career; a lot of dreams have changed, many for the worst. We're pleased to raise a glass to these guys realizing theirs – they deserve it.
I recorded the 4/20 show with Schoeps MK5 cardiod microphones in a wider NOS configuration from directly behind the soundboard in order to give the recording a spacious, open sound. Johnny Fried Chicken boy recorded the October 2009 show with AKG 414 large-diaphragm mics that are always great-sounding, but especially for this band. If this is your first time reading about Lucero, you might check out his recording of the band from Mercury Lounge last year first – it's an instant classic. Enjoy these recordings, and support Lucero!
Thanks to Lucero and their management for their accommodating treatment of us at this show and many others. 
Stream "Like Lightning" from the 4/20/2012 show:
[audio:http://www.nyctaper.com/L2006Lucero9020/26 Like Lightning.mp3]
Stream "The Devil and Maggie Chascarillo" from the October 2009 show:
[audio:http://www.nyctaper.com/L2006Lucero9020/Lucero_-_The_Devil_and_Maggie_Chascarillo.mp3]
Stream "The War" from the 4/20/2012 show:
[audio:http://www.nyctaper.com/L2006Lucero9020/23 The War.mp3]
Download the April 2012 show: [MP3] | [FLAC]
Download the October 2009 show [MP3] | [FLAC]
Follow acidjack on twitter | Follow Johnny Fried Chicken Boy on twitter
Note: All of the material on this site is offered with artist permission, free to fans, at our expense.  The only thing we ask is that you download the material directly from this site, rather than re-posting the direct links or the files on other sites without our permission. Please respect our request.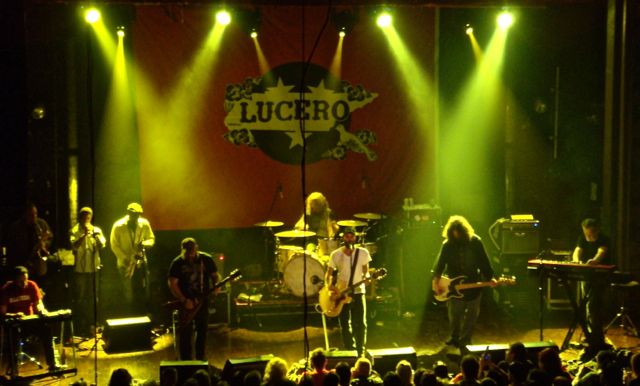 Lucero
Friday, April 20, 2012
Webster Hall
New York, NY USA
Exclusive download hosted at nyctaper.com
Recorded and produced by acidjack
Schoeps MK5 (cardiod, DFC, NOS)>KCY>Z-PFA>Sound Devices USBPre2 >> Edirol R-44 [Oade Concert Mod]>Izotope Ozone 5 (EQ, stereo image)>Audacity (set fades, additional EQ, tracking, amplify and balance, downsample)>FLAC ( level 8 )
Tracks [Total Time 1:54:33]
01 [intro]
02 That Much Further West
03 Downtown (Intro)>On My Way Downtown
04 Nights Like These
05 Kiss the Bottle [Jawbreaker]
06 Women & Work
07 Raising Hell
08 Hey Darlin' Do You Gamble?
09 Juniper
10 Chain Link Fence
11 Sounds of the City
12 [banter]
13 It May Be Too Late
14 She's Just That Kind Of Girl
15 Bikeriders
16 Slow Dancing
17 [banter]
18 I Can't Stand To Leave You
19 Joining the Army
20 Last Night In Town
[Ben With Rick and Todd]
21 Mom
22 Hold Me Close
23 The War
[Full band]
24 [banter]
25 All Sewn Up
26 Like Lightning
27 My Best Girl
28 Tears Don't Matter Much
29 [encore break]
30 Mine Tonight
31 Go Easy
——————————-
Saturday, October 17, 2009
Webster Hall
New York, NY, USA
Source: AUD > AKG C 414 B-XLS's > Edirol R-44 (WAV @ 24-bit/48kHz)
Lineage: R-44 > PC > Adobe Audition (mixdown, downsample, dither, tracking) > WAV (16-bit/44.1kHz) > TLH (check/fix SBE's, FLAC conversion) > FLAC ( level 8 )
Recorded and produced by Johnny Fried Chicken Boy
Tracks:
[Total time: 1:47:06]
01 intro ("Welcome to the Jungle")
02 Sounds of the City
03 That Much Further West
04 Can't Feel a Thing
05 The Devil and Maggie Chascarillo
06 Nights Like These
07 What Else Would You Have Me Be?
08 Joining the Army
09 Last Night in Town
10 Sixes and Sevens
11 Goodbye Again
12 Kiss the Bottle [Jawbreaker]
13 I'll Just Fall
14 Johnny Davis
15 Raising Hell
16 Hey Darlin' Do You Gamble?
17 banter 1
18 Chain Link Fence
19 Sixteen
20 Sweet Little Thing
21 banter 2
22 The Last Pale Light in the West
23 Mom
24 Smoke
25 I Can Get Us Out of Here
26 Darken My Door
27 Tears Don't Matter Much
28 encore break
29 All Sewn Up
If you enjoyed these recordings, please support Lucero by visiting their website, attending their shows, and buying their official releases, including Women & Work, from their web store [HERE]