[Photo by MaryAnne Ventrice]
The first thing you notice at most EULA shows these days is the high number of photographers. Looking at the fine photography we are offering with this post, it's not hard to see why.  I have said before that Alyse Lamb is one of the most compelling frontwomen in the scene today, with the kind of onstage energy, musical chops and look (complete with DIY stage outfits) that makes people pay attention. The first time I saw this band, I was completely blown away by their raw energy and their ability to completely give themselves over to their performance. I invited them to be the first act at our 2012 Northside Festival showcase pretty much the next day, and I am thrilled that I did. This performance at 285 Kent completely raised the bar on that earlier show. The band tore through their ten-song set in under 30 minutes, barely coming up for air between songs as Lamb howled and writhed like a consummate rock star. This set was both grittier and better than I have seen the band before [ed. was it the bourbon?] and set the tone for an incredible night of music. Better yet, several new songs were played that are not on the band's debut album, Maurice Narcisse.  Still, I found that album's title track to be one of the show's high points, as the band delivered a searing, slightly improvised take on the song.
I recorded this set with a new method we have not used in this venue before, placing a pair of Audio Technica 3031 cardiod microphones directly at the stage lip and combining that with a soundboard feed to boost the vocals (which are still a tad low in this mix).  The results are incredible – literally like being in the front of the crowd.  Enjoy!
Special thanks to EULA for playing our show. You can find out more Northside Festival shows [HERE]
Stream "Dirty Hands"
[audio:http://www.nyctaper.com/E2020EULA2012/02 Dirty Hands.mp3]
Stream "Honor Killer"
[audio:http://www.nyctaper.com/E2020EULA2012/05 Honor Killer.mp3]
Stream "Maurice Narcisse"
[audio:http://www.nyctaper.com/E2020EULA2012/07 Maurice Narcisse2.mp3]
Direct download of MP3 files [HERE] | Direct Download of the FLAC files [HERE]
Follow acidjack on twitter
Note: All of the material on this site is offered with artist permission, free to fans, at our expense. The only thing we ask is that you download the material directly from this site, rather than re-posting the direct links or the files on other sites without our permission. Please respect our request.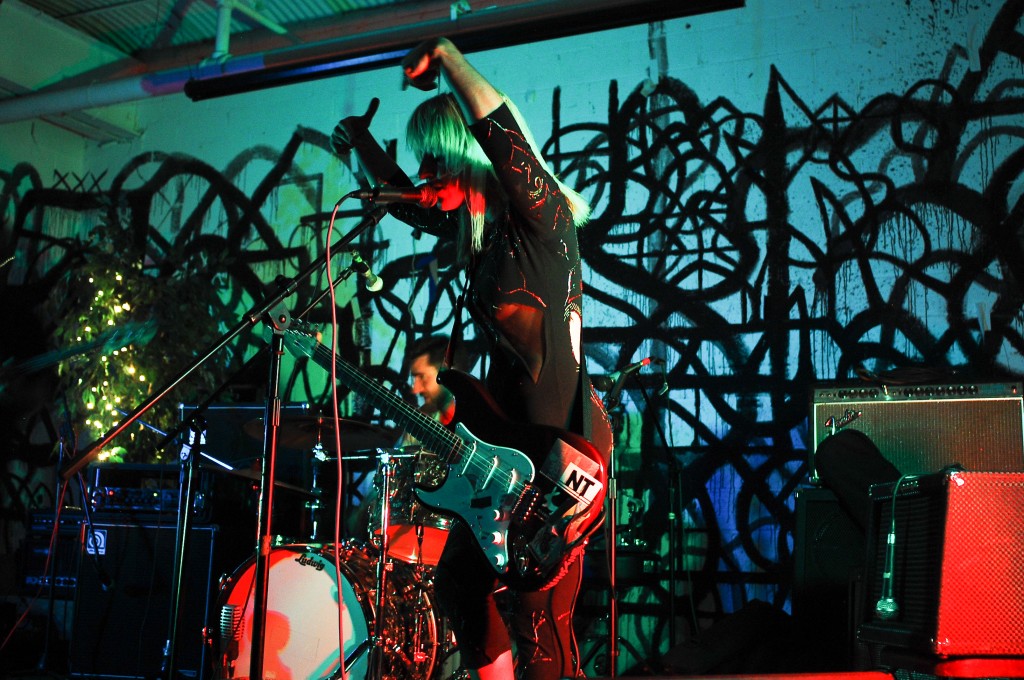 [Photo by Jill at For the Love of Brooklyn]
EULA
2012-06-14
285 Kent
Brooklyn, NY USA
Exclusive download hosted at nyctaper.com
Recorded and produced by acidjack
Audio Technica 3031 (stage lip, NOS)>Sound Devices USBPre2 + Soundboard >> Edirol R-44 [Oade Concert Mod]>2x24bit/48kHz WAV>Adobe Audition CS 5.5 (mixdown)>Izotope Ozone 5 (EQ, tube effect)>Audacity (set fades, tracking, amplify and balance)>FLAC ( level 8 )
Tracks
01 Intro>Above the Weather
02 Dirty Hands
03 Housewolf
04 Wake Up
05 Honor Killer
06 Texas Stampede
07 Maurice Narcisse
08 Fight Riff
09 Rosie the Riveter
If you enjoyed this recording, PLEASE SUPPORT EULA, visit their website, and purchase Maurice Narcisse directly from their bandcamp page.

[Photo by MaryAnne Ventrice]