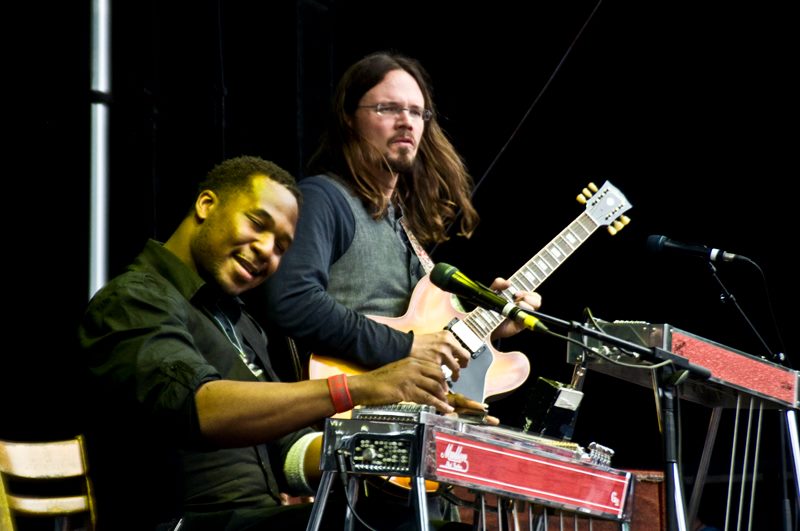 [Photo from the Mountain Jam Facebook Page]
With its all-star lineup of sacred steel/modern jazz/blues musicians, you can't help but call The Word a supergroup.  Featuring Robert Randolph (pedal steel guitar), John Medeski (keyboards), and all three members of North Mississippi Allstars – Luther Dickinson (electric guitar), Cody Dickinson (drums, washboard), and Chris Chew (bass guitar), The Word don't generally get to tour together often (although they've done some festival dates this summer), but when these players share a stage, it's an event. This year's Mountain Jam was one such moment, as the players gave us 75 minutes of classic religiously-themed pedal steel compositions, including many from their sole album, 2001'sThe Word.  The combination of the lovingly rendered compositions served up by these hypertalented musicians against the backdrop of the Catskills could fairly be called a religious experience of its own.
I recorded this set with AKG 414 large diaphragm mics set to wide cardiod mode.  The excellent house mix for this set, coupled with some post-processing, makes this my favorite of my Mountain Jam recordings (you can also download Ben Folds Five, Gov't Mule and Givers).
Stream "Blood On That Rock"
[audio:http://www.nyctaper.com/W0062Word0212/10%20Blood%20On%20That%20Rock.mp3]
Stream "I'll Fly Away"
[audio:http://www.nyctaper.com/W0062Word0212/12%20I%27ll%20Fly%20Away.mp3]
Direct download of MP3 files [HERE] | Download the FLAC files [HERE]
If the FLAC link is not working, Email nyctaper for the FLAC files
Note: All of the material on this site is offered with artist permission, free to fans, at our expense. The only thing we ask is that you download the material directly from this site, rather than re-posting the direct links or the files on other sites without our permission. Please respect our request.
The Word
2012-06-02
Mountain Jam
Hunter, NY USA
Exclusive download hosted at nyctaper.com
Recorded and produced by acidjack
AKG C 414 B-XLS (wide cardiod, 11ft, A-B)>Edirol R-44 [OCM]>Izotope Ozone 5 (EQ, effects)>Audacity (set fades, tracking, amplify and balance, downsample)>FLAC ( level 8 )
Tracks [Total Time 1:18:12]
01 [intro]
02 You Haven't Done Nothin' [Stevie Wonder]
03 Without God
04 At The Cross
05 [unknown 1]
06 I Shall Not Be Moved
07 New Word Order
08 [unknown 2]
09 Joyful Sounds>
10 Blood On That Rock
11. Waiting On My Wings>electric washboard jam*
12 I'll Fly Away
* = w/Cody Dickinson on Electric Washboard and Luther & Robert both on Drums
Robert Randolph – pedal steel guitar
John Medeski – keys
Luther Dickinson – guitar
Cody Dickinson – keys
Pierre Wells – bass
If you enjoyed this recording, please support these musicians by supporting and visiting the websites of Robert Randolph, The North Mississippi Allstars, and Medeski, Martin & Wood.