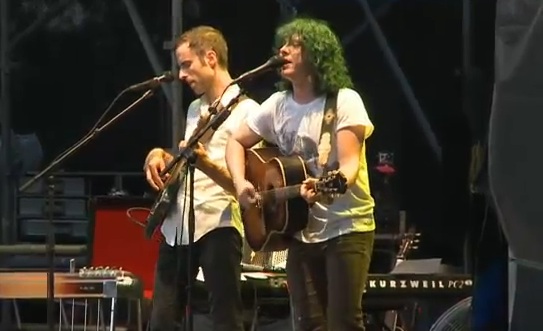 [screen shot from this video]
Ben Kweller has been in the spotlight for virtually his entire life so its no surprise that at the ripe age of 30, he is one of the most confident and comfortable performers you'll encounter. At Stuyvesant Oval on Saturday, Ben played a tight hour-long set to a still-arriving crowd and entertained from start to finish. Kweller's new album Go Fly a Kite is his first record in three years and the quality songcraft evinces maturity while still delivering Ben's genial and playful side. In the Oval, the set consisted of six of the new songs sprinkled in with a nice overview of his catalog. While he currently lives in Austin, Ben did reminisce about his younger days in Brooklyn and the album that came from that period, 2006's Ben Kweller — and the set featured three songs from that album including a specific request for "I Gotta Move". We're streaming "Jealous Girl", one of the stronger tracks from the new album and a song destined to be a Kweller classic.
I recorded this set in the same manner as the Blitzen Trapper set and the sound quality is equally superb, with the caveat that there is some crackling in the keyboards (a technical issue on stage) that can be heard during the points where the keys are played louder. With that, enjoy!
Stream "Jealous Girl":
[audio:http://www.nyctaper.com/B1407BenKweller2121/13.%20Jealous%20Girl.mp3]
This Recording is now available to Download in FLAC and MP3 at Archive.org [HERE].
Ben Kweller
2012-07-14
Stuyvesant Town Oval
New York, NY USA
Digital Master Recording
Soundboard + Audience Matrix
Soundboard + Sennheiser 8040 Cardioids > Edirol R-44 (Oade Concert Mod) > 2 x 24bit 48kHz wav files > Soundforge (level adjustments, mixdown, set fades) > CDWave 1.95 (tracking) > TLH > flac (320 MP3 and tagging via Foobar)
Recorded and Produced
by nyctaper 2012-07-18
Setlist:
[Total Time 1:01:39]
01 The Rules
02 Mean To Me
03 Free
04 I Gotta Move
05 Out the Door
06 Full Circle
07 Fight
08 On My Way
09 Sawdust Man
10 Gossip
11 Falling
12 Red Eye
13 Jealous Girl
14 Penny on the Train Track
If you download this recording from NYCTaper, we expect that you will PLEASE SUPPORT Ben Kweller, visit his website, and purchase Go Fly A Kite from his store [HERE].